New Bed
Posted on 2015/02/28 16:01:40 (February 2015).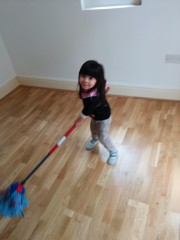 [Monday 23rd February 2015]
I'd ordered us a new bed (the old flat was furnished, so the bed there wasn't ours), which arrived today, and so I stayed home for some of the day to wait for that, whilst Chie took Erika to start her settling in period at her new nursery.

We'd decided to put our bed in the funny little back bedroom, which just about fit a king sized bed and not much else (and fortunately we'd kept the patio doors or else the delivery guys might not have been able to get it in). Unfortunately the back bedroom didn't yet have curtains, and, we'd noticed since we'd moved in, being quite exposed, was really quite cold, so in fact we didn't sleep on it for the first couple of nights, continuing instead to camp out on the blow up bed in the larger bedroom which was nominally Erika's.



Comment 1
Erikachan, ganbatteimasune!

Posted by yoko at 2015/03/21 02:38:04.
Post a comment