DIY
Posted on 2015/02/28 16:01:40 (February 2015).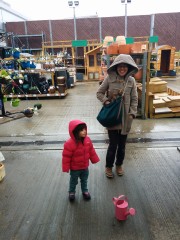 [Sunday 22nd February 2015]
Quite a lot of the day similarly spent unpacking and trying to make the place livable.

The people in the other flat in the building had arranged to have the communal hallway and the front door repainted, and as they were planning to sell, suggested we choose the paint for the front door, since we'd have to live with it for longer than them. So we ventured out to Homebase this afternoon - after a bit of research I'd found the easiest one to get to was in a big retail park at Harringay Green Lanes, which was a short journey on the overground from Gospel Oak, not too far from the flat. It was around lunchtime when we arrived, and we decided since we were in the area to go for lunch at Diyarbakir, the Turkish restaurant on Green Lanes we'd been to with Chie's friend Naoko-san a while back. Initially Erika was sleeping, but woke up towards the end of the meal and nibbled on a few things of ours.

I'd come down with a cold, and had not been feeling very well this weekend, and had been really quite feverish the night before, so had set out for Homebase dressed as warmly as possible, wearing whatever clothes came to hand from the disorganised chaos of moving boxes. So it turned out I was wearing an awful baggy "Dad jumper" I'd bought in John Lewis years ago because I was out for the day without sufficiently warm clothes and it was cold. I found some amusement in the incredibly banal setting of my new life - I had just moved into a home I owned, I was wearing a Dad jumper, and on a rainy Sunday afternoon I was going to Homebase to buy paint.

Erika found Homebase surprisingly enjoyable - there were all sorts of odd things she hadn't seen before, and so I suppose by proxy I oddly enjoyed it myself too. Particularly the garden section, wherein we bought Erika a pink watering can, and a couple of plants for the garden.



Post a comment