Progress on Building Work
Posted on 2015/02/01 16:00:53 (February 2015).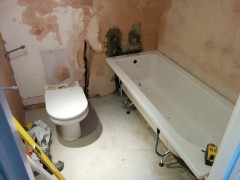 [Sunday 1st February 2015]
Went to the new flat for a bit in the morning to check on progress. Construction of the radiator bench is now underway, although it was just a bare skeleton and looked pretty naff at this point. This is something we'd decided to have on a bit of a whim, on the suggestion of our project manager / interior designer, who suggested it would help make use of a bit of dead floor space as a result of having another radiator installed. It seemed like a nice idea to be able to sit in the bay at the front of the lounge, looking out through the window to admire the wheely bins and generally horrible state of the front garden.

Also after what has felt like weeks since the old bathroom was stripped out, and it being left as a rather depressing empty shell, it finally looks like some progress is being made on fitting the new bathroom. The new bath tub had been put in place, although not plumbed in yet, along with the old toilet (we do apparently have a new one coming, but haven't seen it yet), presumably just to figure out rough measurements etc. The floors and the walls had been smoothed over, and one wall had some tiles put in place.

When I got back to our current abode, the girls were out in the gardens having a run around. Chie went out for the afternoon after that, to have a Mums only (no kids) afternoon tea with some of her friends.

So I stayed home to look after Erika, who spent some of that time having her afternoon nap. Towards the end of the afternoon, when Erika woke up there was still a bit of daylight, so we rushed out for a last chance of the day to go to the playground. After that I attempted to do a bit of food shopping with Erika in Little Waitrose but on being told she couldn't have a cake (she just eats the icing off the top, and it's really not good for her) she threw a bit of a fit, and I left hurriedly and empty handed. Which was a bit embarassing. Her protests continued until we were about half way home, when I finally managed to persuade her to have one of the healthier snacks I'd brought with me instead.



Comment 1
Technically, 14 words do not consitute a blank entry!

Posted by John 's Mum at 2015/02/01 19:49:35.
Post a comment