Regency Cafe and Quorn Pizza
Posted on 2015/02/01 15:59:51 (February 2015).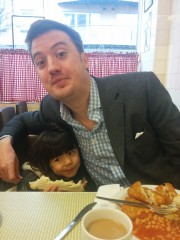 [Saturday 31st January 2015]
Not a particularly healthy eating day - started with breakfast at the Regency Cafe. It was a somewhat bittersweet visit, I couldn't help but think it might be the last time we go as locals.

From there we walked to Victoria Street, and then got on a bus to Trafalgar Square. We bought Erika a new coat in Mountain Warehouse - it's a bit ugly, being bright pink and very modern looking, but it's been quite cold recently and I fear the cute little duffle coats etc for toddlers sold in normal clothes shops just aren't really very well insulated. After that we took in Fortnum and Mason, Uni Qlo, and then went to see the Rubens exhibition at the Royal Academy (Erika was asleep for this bit). We then headed home, and took advantage of the remainder of Erika's nap time to try and have a bit of a clear out ahead of our move. I successfully bagged up some old clothes and took them to a charity shop. So I said goodbye to a couple of old jackets, including this one, and the "Man from Del Monte" suit.

To reward our efforts, when Erika woke up we had tea and cakes I'd bought in Fortnum and Mason - the Victoria sponge in particular was very nice.

For dinner, Chie had spotted a flyer that had come through our door for a pizza place which made quite extensive use of Quorn, including various types of Quorn toppings, and "PopQuorn chicken" as a side dish. Fully accepting that it was going to be out and out junk food, we ordered a pizza (with Quorn peperoni cubes) and some of the PopQuorn chicken. I don't think any of it was great, but it made a nice change. We ate it whilst watching Toy Story 3 (for no particular reason other than it seemed like the sort of thing Erika might like, and it was free with Amazon Prime). Erika generally tends to lose interest in anything longer than the typical CBeebies programme but impressively she sat through most of this and seemed to quite like it.



Post a comment