Day Off
Posted on 2015/02/01 15:59:51 (February 2015).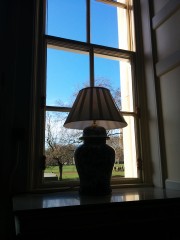 [Friday 30th January 2015]
We were having a new door installed at the new flat, and since this wasn't organised via the project manager who is coordinating the rest of the work for us, this meant I had to be there to let the carpenters in, and then be back later on to get the new keys from them etc. Since it was a bit unclear how long this was likely to take I decided to just take the whole day off, hoping that inbetween I'd be able to have a bit of time to myself to do my own thing.

So after letting them in and making sure they had everything they needed, I left them to it, and headed into the centre.

My first port of call was Norton and Sons on Savile Row, who I like to airily refer to as "my tailor", to discuss possibly having a summer suit made. Whilst I love the current one I have from them, it's a medium weight cloth, fully lined, and there's a lot of internal structure in the jacket (a "floating canvas" and so on) which makes it quite a thick and well insulated garment - so it's often hot too wear in the summer. I was pleased to discover they're quite happy to do a half lined, or even entirely unlined jacket (somehow that didn't feel very Savile Row to me) and had a large range of swatches of lightweight cloths to leaf through.

Didn't actually order the new suit though, still mulling it over. It's a bit of an odd position to be in at the moment, financially speaking - for the last few years I've been holding back on any kind of major spending, thinking that the money should instead be put towards buying a flat. That's out of the way now though, so what next? I suppose the obvious answer is saving up for a bigger place, but that feels like the start of an endless cycle and London seems like such a black hole of cash when it comes to property.

After leaving "my tailor" I wandered down to Jermyn Street to have an idle browse around, and then meandered from their to my club. It was too early to go to the bar, so I suppose you'd have to call it morning coffee instead. I sat by a tall window watching the people below in Green Park come and go. It was quite pleasant.

I headed back up to NW5 after that to check on progress at the flat, and since they still seemed like they were quite a way off, I went and got some lunch at the Pineapple, where they do some very popular (and very cheap) Thai food.

I wiled away some of the remainder of the afternoon in the Southampton Arms, and also went back to the flat for a bit for a cup of tea with one of the builders, who had been working on the bathroom today. Our builders are apparently not of the usual Polish extraction, but are in fact Bulgarian, it turns out.

When eventually the carpenters had finished installing the door I got the new keys from them, and then headed back down to SW1 to pick Erika up from nursery (Chie had decided to go to work today).



Post a comment