Not Very Well
Posted on 2015/01/25 15:37:49 (January 2015).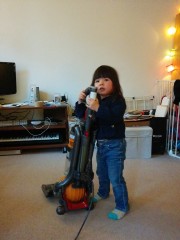 [Saturday 24th January 2015]
In the morning, having overdone it a tad the night before, I did not feel particularly well. Chie very kindly just left me to it and let me sleep it off for a few hours, punctuated by occasional visits from Erika who, at one point, brought in a box of Ibuprofen and said "Eat it. Feel better Daddy.". I am increasingly developing the opinion she has a career in medicine ahead of her.

By lunchtime I was returning to being a useful human being / parent again. After a reviving meal of rice and miso soup I eventually managed to have a shower and make myself look presentable, and we decided we should head out for a bit, to see if we could take Erika to the doctor (not for the cold she currently has, but another issue, details tomorrow) but they were already fully booked for the day. We also took some books I'd decided to clear out recently to the charity shop, and did a quick bit of food shopping - but Erika started to look really cold, so after that we headed back home again.

On getting back home I tidied up the flat a bit, and Erika's condition deteriorated a bit, she started to get quite feverish towards the end of the afternoon. The girls watched Spirited Away while I cooked dinner - a vegetable lasagne. As always we started off by giving Erika some Calpol, but as always that didn't seem to do anything to her fever, and instead gave her some Nurofen. Once that took effect her fever did eventually come down, and she perked up a bit, enough to eventually get her to eat some of my lasagne.

All three of us felt quite tired, so ended up all going to bed the same time as Erika some time between 8 and 9.



Comment 1
As Grandma Hopkinson was fond of saying "there's allus summat".

Some summats are bigger than other summats. XXx

Posted by John's Mum at 2015/01/25 21:21:41.
Post a comment