NW5
Posted on 2015/01/25 15:37:46 (January 2015).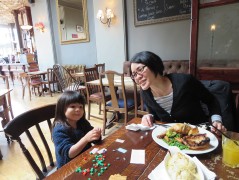 [Sunday 18th January 2015]
Headed up to NW5 towards the end of the morning to check a couple of things in the new flat. I think mainly I wanted to take a look at the "clothes storage system" in the back bedroom to see how easy it would be to detach / dismantle, as it was looking like the builders would want to do a bit of plastering work in that room soon, so it needed to be disposed of in the not too distant future.

Given that we were in the area, I thought we'd try one of the nearby pubs out for Sunday lunch. For some reason central London seems largely devoid of pubs serving Sunday lunch with decent vegetarian options, whereas in North London there are plenty of them. I don't really get why that would be. Today we gave the Assembly House ago, heading there by way of a playground so Erika could have a go on the swings. They had a sort of "nut roast" as their vegetarian option which frankly wasn't great (far too soft, and the blue cheese was a bit overpowering), but it came with roast potatoes, a Yorkshire and gravy, so overall I was happy. I wanted to hang around in the area for a bit longer to try and get back a spare set of keys we'd left with the electrician who'd been round the other day, because the builders now wanted another set. So to kill a bit of time we went for a post lunch coffee, then headed down in the direction of Camden to go to a bed shop there. After that we had a rather fraught attempt to get Erika to have her afternoon nap, which involved her wailing as we pushed her in her buggy along a busy shopping street in Camden. A bit embarassing. We eventually kept walking all the way down to Euston, and she fell asleep just before we got there.

Chie took Erika back home from there, while I went back up to NW5 to pick up the spare keys. On the way back home I went by way of Soho, had a quick drink in the Coach and Horses, bought a new bottle of vermouth in Gerry's, and on a whim got a terrible hair cut for £6 in one of those cheap barbershops in Soho.

Back at home we had tofu and inari sushi for dinner.



Comment 1
Erika chan, sukkari oneesan ni natte kitane!

Posted by yoko at 2015/01/27 05:20:00.
Post a comment