London Aquarium
Posted on 2015/01/16 22:17:12 (January 2015).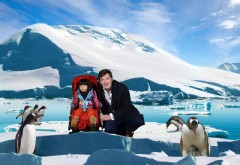 [Tuesday 30th December 2014]
Chie went to work today, so as Erika's nursery was closed over the Christmas period, I tried to think of something fun for us to do together. It was a bit cold so I didn't want it to involve being outdoors too much, and in the end the only thing I managed to come up with was the London Aquarium.

Erika has definitely enjoyed visiting aquariums in the past - she liked the little one in the basement of the Horniman Museum, the aquarium in London Zoo, the one in Brighton, the huge one in Genoa, and the one in the Oceanographic Museum in Monaco. So this seemed like a sure fire success, but turned out to be an important reminder not to take anything like that for granted with toddlers, who can be quite mercurial creatures. I think part of the issue may have been that the London Aquarium is quite claustrophobic - lots of small corridors, and it was pretty crowded - and also mostly quite dark. Being in the dark didn't seem to bother Erika much until recently, but in the last few months she's started to object a bit more to us turning the light off at bedtime, etc. So unfortunately most of the way round the aquarium she kept saying it was a bit scary, and just wanted to move onto the next bit as quickly as possibly. The only part which was a bit more successful was the penguin tank, which was more brightly lit. Oh well.

On the way out I took a quick look at the silly overpriced photo they'd taken of the two of us on the way in, with us super imposed onto several different backdrops. I never normally give any thought to buying these, and previously wondered who ever does - but realised it is of course exactly soft-in-the=head parents like me. Erika said she wanted to take the photos, so I dutifully handed over the cash. So at least we've got a silly keepsake which suggests we might have had a fun time.

Afterwards we crossed over the river, and looked for somewhere to have lunch. I thought it might be nice to try the Covent Garden branch of Polpo - we'd taken Erika to the other one before and I vaguely recall her managing to find a few things to nibble on there. Unfortunately the door was a bit of a pain to get into, and for some reason Erika started crying as I was struggling to get the buggy over the threshold - I then lost my nerve at the sight of an otherwise childless and fairly quiet restaurant, so decided to just turn around and head straight back out again. I thought Erika had probably had enough at this point so just got in a taxi and headed in the direction of home.

As the taxi took us past the Houses of Parliament, I thought I'd check with Erika whether on the off chance she might want to go to our favourite playground in Victoria Tower Gardens. She of course said yes, and so I got the taxi to drop us off there, and she had a go on the swings, etc. After that we headed to the Pret a Manger on Horseferry Road, thinking I'd re-attempt lunch in a place where I wouldn't feel quite so bad if Erika made a bit of noise. I managed to find a pasta dish there which went down quite well with Erika, and after leaving there she fell asleep. From there we headed home, and just stayed in for the remainder of the day.



Post a comment