Down to Devon
Posted on 2015/01/02 11:00:00 (January 2015).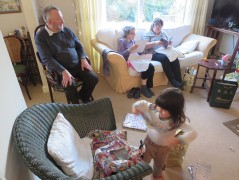 [Saturday 27th December 2014]
Got the train down to Devon to see Dad, Vera et al.

Today frankly did not go very well. At all.

We'd set off bright and early this morning, as we were keen to try and get to Devon by midday, so we could catch Alex and Alice, who'd been staying over Christmas and were planning to head off today, and also Robin who was dropping off Vera before heading back to South Wales. On arrival at Paddington though it soon became clear all was not well, engineering works had overrun and it seemed like no trains would be leaving there for at least a couple of hours. Thinking on our feat, we then rushed over to Waterloo, remembering there's also a service that goes from there to Paddington, albeit a slower one. We managed to get on a train there, and actually get seats too, but it got progressively more and more overcrowded en route, and lots of people seemed to be becoming rather bad tempered as a result, so it wasn't exactly the most pleasant of journeys.

We'd phoned ahead to let everyone in Devon know we'd be several hours later than planned, so alas we missed Alex, Alice and Robin altogether, which was really disappointing.

Still, on arrival, we did get to meet Lucy and Martin's baby for the first time, and it was of course lovely as ever to see Vera, who was going to be staying there for a few days. We had a late lunch / afternoon tea, and opened a few Christmas presents and it was all going rather well.

Dad said he was going to take Jess out for a walk, and me, Chie and Erika decided to go along with him. While we were out I received a rather upsetting email from the people in the flat above our new flat, which I soon realised meant that, frustratingly, we'd basically need to cut short our trip to Devon, and pretty much go straight back to London again to sort it out.

Having had a bit of an ordeal of a journey getting here, it really didn't seem fair on Erika to do any more traveling that day, so instead we decided to just stay the one night, and get an early train back the next morning.



Post a comment