Christmas Day
Posted on 2015/01/02 10:59:59 (January 2015).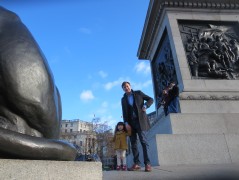 [Thursday 25th December 2014]
Erika really seemed to enjoy opening her presents in the morning this year. Of course, it's bound to seem better than last year as I spent the whole day feverish and bedridden. That aside though, Erika really seems to be starting to understand the idea of presents and Christmas, and it was absolutely lovely to see her so full of glee this morning.

We also did the usual phoning around relatives, some of it via video conferencing this year.

Towards the end of the morning we headed out for a Christmas day stroll into the centre. We walked along the river, and stopped off at our favourite playground by the Houses of Parliament, before proceeding up Whitehall to Trafalgar Square. We felt uncharacteristically touristy today, and posed for pictures on Horse Guards Parade, plus climbed up on the lions at Trafalgar Square.

I had rather hoped we'd be able to cap all that off with a Christmas Day pint at the Coach and Horses, which we'd been to on Christmas Day a few years back. But, alas, it was closed. As was every other pub I might have considered going to - the only ones which we saw open were the touristy ones around Trafalgar Square, which I wasn't really in the mood for.

So instead we slightly oddly had a quick lunch at Tokyo Diner (which apparently opens 365 days a year) before getting a very expensive taxi back home.

Had our proper Christmas dinner as an evening meal, which came out reasonably well.



Comment 1
Hisasiburi ni tanoshiku miteimasu.
Subarashii otenkide sutekina shasin!




Posted by yoko at 2015/01/12 02:32:27.
Post a comment