Wednesday in Hospital
Posted on 2014/12/06 20:22:34 (December 2014).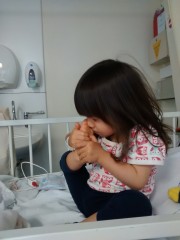 [Wednesday 3rd December 2014]
As I said yesterday, time in hospital seems to be a bit of a blur in hindsight - partly because the concept of time seems to go out the window - we really had no idea how long we were going to have to stay for. Add to that all the time spent waiting around for a doctor or a nurse to come and see us, plus the loss of sleep, and the fact we couldn't see the outside world from our room (the window looked inwards to the hospital's atrium).

Chie came back first thing to relieve me of my post, and I headed home for a shower and then an hour's sleep. Whilst I was at home the doctor came to visit and told Chie Erika would need to stay at least another night - the key issue was her oxygen saturation level which dropped too low overnight - beneath the magic figure of 92%, thus requiring them to administer some oxygen. Until her breathing had improved such that that was no longer necessary, they weren't going to discharge her. So began a very frustrating pattern of constantly thinking and hoping we'd be able to go home tomorrow, only to be disappointed overnight / the next morning.

I got back to the hospital for lunchtime, having gone to Sainsbury's to buy a big bag full of Erika's favourite snacks in case she got hungry. This turned out to be quite a good idea as the tuna pasta served for lunch was by all accounts quite horrible (the rest of the meals she had after that weren't actually that bad albeit consistently lacking in the presentation department, and to be honest I'm not sure were all that nutritionally balanced - I didn't see a lot of fresh fruit and vegetables or anything green for that matter).

While Erika was having her afternoon nap I popped to my office for a bit, as I hadn't really had a chance to let anyone know we'd had to go to hospital yesterday, and I think it had looked a bit like I'd just vanished. So I sent a couple of emails and set up my out of office auto reply. I was just starting to relax, and despite the fact I'd only had an hour or two's sleep, was actually contemplating trying to get a little bit of work done, when the phone rang and all I could hear at the other end were loud cries from Erika, who had apparently just woken up and was very upset that I wasn't around. So I literally dropped what I was doing and got a taxi straight back to the hospital.

As a result of that episode, we decided Chie should go out and get dinner this evening, so went to Feng Sushi which was also conveniently across the road from the hospital. Erika's hospital dinner had been served at something like 5:30, which is a bit too early for her, and she didn't really have much of it. So it was good that she had a second chance to eat with us later on.

We asked Erika several times during the day who she'd like to stay with her overnight tonight, and she very consistently said me. As much as I craved a proper night's sleep at home I of course went along with this, as it was important we did everything we possibly could to try her feel as comfortable as possible.

I of course hoped, completely naively as it turned out, that she'd have made a marked improvement already and her oxygen saturation level would be magically back to normal overnight, but of course that was not to be. So instead it was something of a repeat performance of the previous night - being kept awake pretty much constantly by the alarm from oximeter, and soul crushingly having to concede defeat and get the nurse to come and turn the oxygen supply on.



Post a comment