New Flat Again
Posted on 2014/11/30 16:48:54 (November 2014).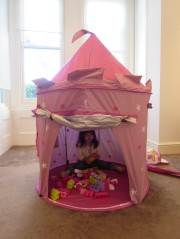 [Sunday 30th November 2014]
After breakfast, Robin and Robert came to pick us up, and we once more drove across London to the new flat to have another look, this time to get Robert's opinions on the place.

Whilst Robin does have a major scheme for a re-design of the layout which would turn it into a "proper" 2 bed flat (at the moment one of the bedrooms and the bathroom is accessed via the other bedroom), which we discussed at length we also determined it would be a lot of work, and would be very unlikely to be finished before our lease on the current place ends in February, which is the current latest date by which we'd want to be moved in.

So instead I think we're settling on a more modest plan of works which should be achievable by then. Chie's suggestion is that we actually make the tiny back bedroom ours, and give Erika the larger bedroom, which she could also then have most of her toys in - so that way if we did ever have overnight guests staying in the lounge, they could get to the bathroom without having to walk through our bedroom, which would obviously have been a bit odd (assuming Erika doesn't object to people tiptoeing through her bedroom while she's asleep). So then the only work we'd probably have done is to partially fill in the patio door in the small bedroom to make it a bit warmer (does a flat the size of ours really need three sets of patio doors?), remove a partition wall between the hallway and the lounge to make a bit more space, replace or at least seriously fix the other two sets of patio doors which are a pain to open and close, and also at Robert's suggestion get a completely new bathroom.

I felt pleased that we finally had settled on a plan of action of sorts.

Robin and Robert didn't stick around for lunch, having had a big breakfast at the Goring, and being keen to make an early start on their return journey to South Wales. So we waved them off after our planning meeting at the flat, and Chie, Erika and I went for a quick and embarrassingly cheap late lunch at a little Italian place near Tufnell Park, before getting the tube back to Pimlico.

Erika and Chie then went swimming for some of the remainder of the afternoon, which in hindsight may not have been a great idea given what was about to befall us, but at the time she had seemed absolutely fine.

In the evening Erika did start to seem a little under the weather, and overnight developed quite a high fever, which turned out to be a portent of a rather dramatic week to come.



Post a comment