Choosing my new Local
Posted on 2014/11/30 16:48:52 (November 2014).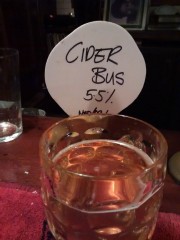 [Tuesday 25th November 2014]
I'd booked a night off from parenting duties this evening, originally thinking I might go to Marlow, as Andy had given me a key to give to one of his friends there when I was in Japan. As it turned out though the weather looked pretty awful, which would take away any potential fun of a brief evening jaunt out into the country.

So instead I decided to pop to the new flat to try and read the electricity and gas meters again, as last time I'd tried this Erika was there, and became a bit upset about me going down into the cellar. I also thought on a bit of a whim I'd get some takeaway and eat it in the flat - technically my first meal there. Friends at work had talked about how great it feels to use the toilet for the first time in a property you own - to be honest that hadn't really struck much of a chord with me though.

Since I was in this neck of the woods, I thought I'd re-familiarise myself with the local pubs. I'd been to the Kentish Town area a few times before on pub crawls - which first set the seed in my mind that there were a few really nice residential streets and it might not actually be a bad place to live. I started with the Pineapple, which I think seemed like the strongest candidate for being my new local, and was the place I'd been to the most times in this part of town. It was interesting to go in there in the evening - it's on a very quiet residential street, and being a Tuesday evening on entering I expected it to be mostly empty, but it was actually fairly full and bustling.

From there I ventured on to the Southampton Arms, which surprisingly I hadn't been to before, considering what a great pub it is - a proper old fashioned pub, which just happens to also have a really large selection of real ales (and probably a few "craft beers", which I chose to ignore) and also ciders - I counted somewhere in the region of 6 ciders on tap, which is pretty impressive. The competition for the title of my official local is going to be tough.

Finally I rounded off with the Assembly House, which I'd always found to be quite pleasant when we'd been there on pub crawls, in the day time - it has quite a nice interior and was always fairly quiet. It seems to be quite a different pub in the evening though, apparently a favourite of the local student population, and as a result I can't imagine I'll end up going here that often.



Post a comment