Wednesday in Tokyo
Posted on 2014/11/16 07:41:35 (November 2014).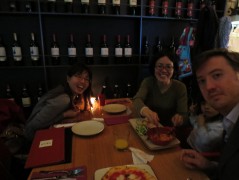 [Wednesday 12th November 2014]
I got a very early shinkansen to Tokyo in the morning - the same time as I had the previous week, 6:40 from Hiroshima station, which meant waking up at something like 5:30. The girls (including auntie Yuka) were going to head to Tokyo today as well, but they'd already booked flights, and were going much later in the day. So this got me into the office not long after 11, making it manageable to squeeze in a full day's work without having to leave too late in the evening.

At the end of the day I met up with the girls at the Grand Hyatt, they'd already checked in before me. We decided to try the Tokyo branch of international chain "Obika" for dinner - the "mozzarella bar". I'm still not really sure I've figured out what this mozzarella bar concept is all about. Being an international sort of place, and in Roppongi Hills, it was all a bit expensive, and the pasta+pizza I had were at best decent, certainly not outstanding - much better examples of both can be found at a fraction of the price in the nearby area, once you get slightly out of the pricy immediate vicinity.

After that I left the girls to it, and went to meet Tanaka-san near Yokohama for a catch up. We went to quite a dull izakaya near Kikunka, quite a dull station in the middle of commuter belt nowhere. It was the sort of place where you're closed off in a little booth and you can barely even see any of the other customers, let alone any possibility of interacting with them - this seems to be quite common in Japan, and it always makes me wonder what's the point of going out at all really. Still, quibbles about the venue aside it was as always a delight to have a chance to chew the cud with Tanaka-san, who remains one of the most thoroughly affable people I've ever had the good fortune to meet.



Post a comment