Kyushu
Posted on 2014/11/16 07:41:31 (November 2014).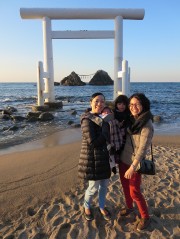 [Tuesday 4th November 2014]
Woke up at 5am this morning, which didn't really feel like very singificant progress in terms of a sensible sleeping schedule, considering I'd gone to sleep at the same time as Erika - around 8:30 - the night before.

We were a bit better organised this morning, and managed to head out not long after 10. We'd decided to head to Kyushu, Japan's third largest island, and quite convenient from Hiroshima as it's only about an hour from there to Fukuoka, Kyushu's main city. Before getting on the train we picked up some doughnuts at "Mister Donut" and had these as sort of elevenses en route.

Erika fell asleep not long after we arrived in Fukuoka (where for some reason the main station is actually named "Hakata", apparently the old name for Fukuoka). Although Kyushu is famous for ramen noodles, unfortunately it's a dead loss for me as they appear to be universally based on pork broth - so it's actually better for me to just eat ramen when back in London and pretty much forget about it altogether when in Japan. So actually for lunch today we went our separate ways - I found a safe option in a branch of a chain of Italian restaurants called Capriciosa, which we'd been to in Tokyo back when we lived there - whilst Chie went off for ramen.

After lunch, we got on a local train and headed out of Fukuoka to where Chie's friend Ai-san lives. She has an apartment right next to the sea - there's a sandy beach on her doorstep, and a sea breeze wafting through the windows of her lounge. Ai-san has been to stay with us in London quite a few times, particularly when she used to work as a cabin attendant so was able to get standby flights very cheaply, but we'd never seen where she lives before. It was also really great timing as she'd very recently had a baby girl, I think she's only about 6 weeks old. It occurs to me how much I seem to have forgotten abotu babies now that Erika is very much into the toddler stage - and I was almost as nervous to hold little Hina-chan as I had been about handling babies before Erika was born. Erika seemed quite fascinated by her which was really lovely to watch.

After tea and cake at Ai-san's flat she decided to take us out for a drive along the coast to see a couple of local scenic spots. First we went to Sakurai Futamigaura, a beach where there's a rock formation which I think is meant to symbolise a married couple, or something like that. After that we took a drive along sunset road where, as advertised, we were indeed treated to a very picturesque sunset. Ai-san took us back to the station after that, where we said a rather hurried goodbye, as Hina-chan had made it quite clear on the way there it was time for her to be fed.

Once back in Fukuoka we headed to our hotel for the evening, the Grand Hyatt, which impressively we'd be staying at for free, having accumulated lots of points with Hyatt's loyalty scheme for all my stays at the Hyatt in Tokyo.



Post a comment