Regency Cafe
Posted on 2014/08/30 23:18:01 (August 2014).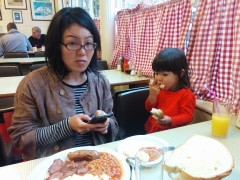 [Tuesday 26th August 2014]
Erika has quite severe nappy rash at the moment, so we decided we ought to take her to see the doctor this morning. Amusingly having got there bright and early to queue up for the walk-in clinic, it ultimately transpired that the doctor who was supposed to be doing it was in fact on holiday. So it had to be rebooked elsewhere a bit later in the morning, giving us a bit of time to kill in the vicinity of Vincent Square. Naturally we therefore decided to go for breakfast at the Regency Cafe, which was delightful as always.

We'd been given a bunch of initial paperwork to fill in by our conveyancing solicitor before the bank holiday weekend, and this evening I set about sorting it all out with a drive and sense of purpose which surprised me as much as it surprised Chie. I normally hate filling in forms, and she's the one who has to thrust them in front of me to get them done. As this also involved collecting bank statements and other documents I took the opportunity to tidy up and file away the mass of random papers on the coffee table, where the contents of envelopes inevitably get dumped. Felt very virtuous after that.



Comment 1
Akai youhuku yoku niatte imasune! Sukkari oneechan ni nattekimasitane.

Posted by yoko at 2014/09/02 13:37:16.