Saturday in Devon
Posted on 2014/08/30 23:13:04 (August 2014).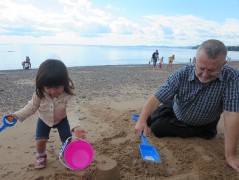 [Saturday 23rd August 2014]
Visited Reddaway's Cider in the morning, which was really exciting again. The cider cellar there has a magical atmosphere, and the farmyard setting we walk through to get it is so much like you'd hope it to be (all rustic, higgledy piggledy outbuildings with free roaming chickens) that it almost feels like a parody.

Spent the afternoon on the beach at Dawlish Warren, as Dawlish air show was on today, which made for an interesting mixture of digging in the sand with occasional interludes of planes flying over head doing aerial acrobatics. Erika seeemed to quite enjoy both aspects. Dawlish Warren was always a favourite beach of our on bucket and spade holidays when I was a kid, and it's lovely to be able to go back there and have Erika enjoy it too.

After the Red Arrows had done their bit, Dad and I decided to walk back to the house, taking Erika in her buggy in the hope that she'd doze off. She did, but only for half an hour or so. We stopped off on the way back at the Ship In in Cockwood, where Dad and I had a cider, and Erika had an orange juice and some mini cheddars. She also ate a couple of the olives Dad had got for us, which rather surprised a nearby table.

Had a cream tea when we got back home, and for dinner Dad made his own take on a "nabe" (Japanese hotpot), with udon noodles and lots of vegetables from his allotment. We also made a good dent in the Reddaway's Cider.



Comment 1
Otenki mo yoku minna de tanosisou!!

Posted by yoko at 2014/09/02 13:32:02.
Post a comment