Italian Saturday
Posted on 2014/07/28 07:12:04 (July 2014).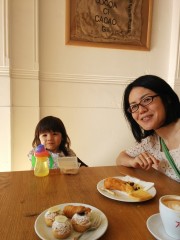 [Saturday 26th July 2014]
Without specifically planning it that way, it ended up being a very Italian sort of day.

Having enjoyed the experience of visiting pasticceria on our recent trip to Italy (standing at the counter and having an espresso and a few small pastries/cakes) I was keen to see if something similar existed in London. After a bit of a search of the web I found there was a place called Dolcezza, between Stockwell and Oval, so we headed there for breakfast this morning. It made for a pleasant break from the norm, but it wasn't really like the atmosphere in a pasticceria in Italy - for a start the member of staff who served us was Australian, and the general feel of the place was much like any other coffee shop in London, but just with the addition of a few small Italian pastries.

We walked back to the flat by way of Vauxhall, to pop into the little Waitrose there and buy things for lunch. I had a sudden craving for cucumber sandwiches and scones. So once back at the flat we had an afternoon tea style lunch, although rather than heading out into the gardens we lazily stayed indoors with all the windows open.

Spent most of the remainder of the afternoon slobbing around the flat - it was actually quite hot outdoors, and staying indoors with all the windows open it was just about right.

In the evening, Chie went out with a friend. I didn't really feel like just staying, so Erika and I resumed the Italian theme, heading over to the area around Sloane Square. Erika dozed off en route, so initially I had an aperitivo on the pavement outside a little Italian cafe whilst Erika napped in her buggy. I then moved to the Italian restaurant next door (Caraffini where we've been a few times with Erika now) and took a table on the terrace. I think I managed to time it just about right - Erika was still sleeping when we arrived, but I woke her up when our food arrived. It was rather lovely having our romantic al fresco dinner for two.

Rounded off the evening with a visit to Olivogelo for some gelato on the way home, to complete the Italian theme.



Comment 1
Erika no kao kurukuru kawatte
kawaii!!

Posted by yoko at 2014/08/01 12:46:27.
Post a comment