Back to London
Posted on 2014/06/24 23:09:57 (June 2014).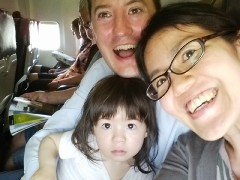 [Sunday 22nd June 2014]
As our flight back from Pisa wasn't until 3:25 in the afternoon, we'd originally considered trying to go to the Uffizi this morning (it apparently opens at 8:15, even on a Sunday) but in the end lethargy set in a bit, and we instead had a bit of a lie in, followed by a fairly lazy morning slobbing about Lorenzo's place. We eventually decided to just load the car up with our stuff, and have a late breakfast at Lorenzo's favourite (or maybe second favourite?) pasticceria, before then heading off to the station to catch the coach to Pisa airport.

So we were saying our goodbyes by 11:30, and on the coach on the way to Pisa airport shortly after that.

We thought it would be good to give ourselves plenty of time in the airport, so we could have a leisurely lunch there. As it turns out though it was a bit too long - our flight was delayed by an hour, and we ended up with almost four hours to kill in the airport. We had lunch in the self service restaurant there, where the little old lady behind the counter rather sweetly made a dish of pasta with tomato sauce specially to order for Erika. It seems mumbling something along the lines of "per bambina" whilst pointing at Erika works wonders in Italy.

Finally boarded the plane just after 4. The flight went fairly smoothly I suppose - Erika was very well behaved considering the cramped conditions. We did need to change her nappy part way through, I task I valiantly offered to take on alone, which turned out to be a bit of a challenge in the tiny loos on board this flight. I somehow managed to cut my finger quite badly in the process, and so had to go through the usual ridiculous routine of asking the cabin attendant for a plaster, and convincing them I wasn't allergic to plasters.

I think we landed some time around 5:30 UK time, managed to get on a Gatwick Express to London not long after 6.

Had Japanese food for dinner (rice and miso soup), and it felt very good to be back home.



Post a comment