Thursday in the Cinque Terre
Posted on 2014/06/24 23:09:56 (June 2014).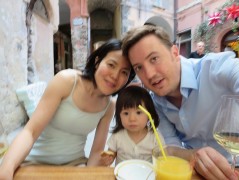 [Thursday 19th June 2014]
There are five villages in the Cinque Terre, as you might guess from the name. We were staying in one (Monterosso) and had briefly visited another (Riomaggiore) yesterday. I thought we probably ought to try and fit in one more so we could say we'd been to the majority.

So after a lazy morning we decided to head to the station (not sure how at this point I'd got over my extreme displeasure with Trenitalia) and get the train to Vernazza. It was a pretty similar sort of thing to Riomaggiore, and if I'd known the heavy toll our daytrip would take on us, I wouldn't have bothered.

We had a simple lunch bought from a little bakery, eaten in a shady spot next to the church. We tried one of the little pie things (torta or something?) filled with rice, which was a surprise hit with Erika, and felt reassuringly at least a bit less salty than the focaccia. We followed that with some gelato, and it was all more or less pleasant enough.

Things rather went down hill on our way back to Monterosso though. For a start we had to wait well over an hour for a train (for a four minute train journey). Presumably Trenitalia's staff have a little siesta this time of day. As a result the train was packed when it did finally arrive. One of the doors was broken, so we had to carry Erika and her buggy through the carriage to the other end. After we got off, we heard somebody saying something about being wary of pickpockets, so Chie checked her bag, and found her wallet was missing. Some utter lowlife had pickpocketed a mother carrying her child's buggy off a train. I couldn't believe it.

So that was almost certainly the low point of the whole trip, and Chie declared at that point we were never coming to Italy again. We marched furiously back to our hotel, and started making all the necessary calls to cancel all our credit cards etc. I was rather vexed at how chirpy and upbeat the people on the phone were - none of them showed any kind of sympathy at all. You'd really think simply saying "I'm sorry to hear about that" would be added to the script.

Next we went to the police station, to report the theft - of course there is absolutely no point in doing this other than for insurance purposes. What particularly rankled is that there are signs at the station (we only noticed after it was too late) saying that there are pickpockets operating there on a daily basis. If that's the case why don't they just put a police officer there, rather than have three of them pointlessly languishing in the police station. The man before us was reporting exactly the same kind of theft, and I got the impression people being pickpocketed at the train station was the majority of cases they dealt with. Yet the carabinieri stay in their office, pointlessly filling out forms, nowhere near the station.

On the plus side the police officer we spoke to - a young lady - was very sweet with Erika. She invited her to go and sit on her lap for a while as she was filling out the form.

I think both Chie and I had probably cooled off a bit by this point, and had got through the initial anger, into a phase of acceptance and resignation. There wasn't much cash in her wallet, and all the cards etc were of course replaceable. So it was really just a big inconvenience, mixed with that unpleasant feeling of feeling like a complete mug, and the pickpockets having won.

After leaving the police station we decided to try and lift our spirits with a drink, and got ourselves a table outside Enoteca da Eliseo, which seems to be the place to go in Monterosso according to the web. Therein we tried some local wines which were interesting, and I also had a Negroni, which wasn't bad. The seats of the wine bar were in a tiny little square, and there were lots of people coming and going, which made it fun for Erika too.

So I suppose we did start to cheer up a bit after that.

We had a last attempt at a swim in the sea after that, at one of the public beaches in Monterosso. I stayed on the beach again this time, but Chie actually had a swim, and Erika got in the water at least up to her ankles.

For dinner we were feeling miserly following the events of the afternoon, and so went to a cheap cafe type place specialising in pasta - I think it was classified as a takeaway but they had a few tables, as long as you didn't mind eating off plastic plates, with plastic forks. We also sat at a little plastic table. Somehow I ended up choosing pesto again, I thought I had got bored of it by this point, but apparently I had room for one more.



Post a comment