To the Cinque Terre
Posted on 2014/06/24 23:09:55 (June 2014).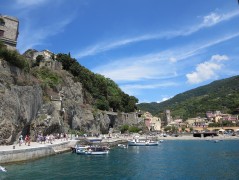 [Wednesday 18th June 2014]
Partly because we thought it would be fun, and partly because we were loathed to put any more money in the unscrupulous hands of Trenitalia, we decided to take a ferry onwards from Sestri Levante to the Cinque Terre. This actually turned out to be extremely convenient as well - there was a ferry departing just before 10, and the pier was just a few steps away from the lift which took us from the hotel to the bay.

We had spotted a member of the boat company's staff yesterday, and mentioned we wanted to travel to Monterosso al Mare by boat, one way. She told us that although the boat was going there, the first stop was Riomaggiore and if we only had a one way ticket we had to get off there. I asked if there might be a means of buying some kind of extension ticket or anything but she flatly said no. This being Italy, I found that a bit hard to believe. As it happens the same woman was selling tickets for the boat this morning, so I repeated our requirements, and she still rather sternly said no. I still didn't believe her.

Once actually on the boat, I chatted to a member of the onboard staff who said that would be absolutely fine, and we just slipped them an extra 5 euros.

It was a pleasant, albeit quite a brisk run from Sestri Levante to Riomaggiore - the boat went at a fair old pace, and out on the top deck it was actually pretty windy. There were quite nice views to be had, with the five villages making up the Cinque Terre nestled along the coastline, but it was really difficult to get a decent picture.

We arrived in Riomaggiore at 11, where we had an hour to spend before the boat proceeded on to Monterosso. It immediately became apparent just how packed with tourists the Cinque Terre was. They're all pretty small, dense villages, and there's basically no way to escape the crowds. I think that rather coloured my appreciation of our time there - yes on some level they were quite picturesque and everything, but the effect is rather spoilt when you have an American tourist in your right ear talking about basketball, or whatever.

An hour isn't of course time to really do anything in a place, so we just had a quick wander around. I think I at least managed to get one or two nice pictures - I particularly liked this one.

Conveniently in Riomaggiore we found a takeaway pasta place there wherein I procured, from the rather grumpy looking member of staff, a box of trofie in tomato sauce. Erika ate it once we were back on the boat.

We arrived in Monterosso around 12:30. Thankfully, unlike Riomaggiore, there were no steps between the pier and the town, and so we had a fairly easy time getting from our boat to our hotel for the next two nights. Our room at the Hotel Souvenir was refreshingly bright and modern - not usually my cup of tea, but in contrast to the depressing drabness of our room at the previous hotel it was very welcome. Apparently there had been a landslide in recent years in Monterosso, and our hotel had to be partly rebuilt - thus the very up-to-date interior.

We headed out for a wander around Monterosso after dropping off our bags, and found lunch at what I can only assume to be an outpost of Scottish gastronomy: a place selling deep fried pizza, and Tennent's Lager. I'm not sure how they turn a profit, as it took two of them something like 15 minutes to prepare our relatively simple order, but anyway, it was all surprisingly nice - Chie particularly liked what she ordered (something seafoody and deep fried, I forget the specifics).

Erika had a little play in the town's playground after that, and then the girls retired back to the hotel for an afternoon nap. I thought I'd try somewhere for a pleasant afternoon drink, but after a couple of circuits of the town couldn't find anywhere I liked the look of, so I too returned to the hotel.

In the evening we headed over to the newer side of Monterosso, as I had found a place which sounded like it might be good for dinner on the web. I'm not actually sure if the place we ended up at - a pizzeria called L'Arembaggio - was actually the place I'd been aiming for. Anyway it seemed to meet our needs.

Took a stroll along the beach on the way back to our hotel.



Post a comment