Monday in Sestri Levante
Posted on 2014/06/24 23:09:54 (June 2014).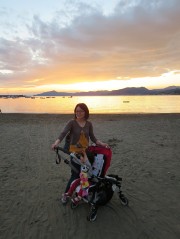 [Monday 16th June 2014]
Had our holiday just been a Tale of Two Cities (the bit at the start in Genoa, then the bit at the end in Florence) I think we'd have had an uninterrupted good time. Especially if we did not use the trains to get between the two.

As it was though, we commenced on "the bit in the middle" today - four nights on the Ligurian coast - which was not entirely successful. Primarily because of two unpleasant events involving train journeys. The first was this morning, as we were getting the train from Genoa to Sestri Levante, where we'd be staying the next two nights. The main station in Genoa was practically shut down - there seemed to be some kind of building works going on, none of the escalators were working, all of the lights went off at one point, and apparently the ticket booking system had crashed, so none of the ticket machines were working. As I was trying to use a ticket machine, a member of Trenitalia staff came and told me they were "Non funziona" - which rather became the defining phrase of the trip. She instructed me to give up on using the machines, and instead to buy a ticket on the train. I am really angry with her now, and wish I had taken down her name so I could report her. Not that I imagine that would achieve anything with an organisation of such clearly dubious principles as Trenitalia. Anyway, at the time I didn't give it much thought, we had a lot of luggage and Erika's buggy to manhandle, and it turned out to actually be quite a long way to the platform.

Part way through the journey, on encountering the first member of Trenitalia staff I'd seen on the train, I asked to buy a ticket. He was apparently a special ticket inspector and told me I had to pay a fine of 50 Euros for not having a ticket. I did attempt to keep my composure as best as possible (especially as Erika was with me), but as you might imagine I was more than a little irked by this. I of course argued the point, even presenting a photo I'd taken of the broken ticket machines, and pointing out I was just following the instructions of his company's staff. However no amount of reason seemed to make any difference. I can only assume therefore this was a deliberate tactic on behalf of Trenitalia to steal money from unwitting tourists. I really have no desire to ever use that train company again.

I tried as best as possible to put this behind me so we could get on with trying to enjoy the rest of our holiday. I was of course quietly fuming though, having effectively been robbed by a licensed bandit.

We arrived in Sestri Levante just before midday, and headed to our hotel - the Grand Hotel dei Castelli. I'd somehow neglected to read about the fact the hotel has a lift from more or less sea level, as it's actually up on a bit of a hill, so we had quite a steep climb with our luggage etc to get there. It was apparently too early to check in, so we deposited our bags, and headed back into the town centre to find lunch. Consistent with the last couple of days, Erika fell asleep at this point.

We chose "La Cantina del Polpo" for lunch, which was pleasant enough I suppose. Yet more pesto for me, and I think I had now reached my limit.

Headed back to the hotel again to check in proper. Although the grounds ann some bits of the interior of the hotel were quite grand as the name suggested, our room wasn't. I should have taken some pictures to illustrate - the only adjective I can think of is "drab". I'd splashed out a bit for this hotel, as for most of the rest of the trip it had actually been quite hard to find anything above mid range sort of hotels, and I'd thought a couple of nights in more luxurious surrounds might be rather nice. This hotel certainly didn't deliver on that front. For a start, I know it's just the way they do things in warmer countries like Italy, but for a start I just don't like tiled floors. They're cold, unwelcoming, the always seem dirty and are generally not nice to walk on with bare feet. As for the rest of the decor, our "suite" comprised a funny little adjoining room with too decidedly naff tired old sofas, and some ugly faded cheap looking tapestries, which I assume were leftovers from some kind of one of those mock medieval banqueting hall dining experiences. The bed was very noisy too, the slightest movement resulted in a cacophony of ancients springs. The shower head was plastic. The amenities left a lot to be desired. Yes, there was a balcony with a sea view, but which also had an ugly grill fence on one side.

Combined with the unpleasant incident on the train this morning, I was really struggling at this point to feel in a jovial holiday sort of mood. Again though I did my best to put on a brave face.

We went for a walk round the hotel grounds. Again they were OK, I suppose, but not very well maintained (which reminded me by contrast how lovely the grounds of the Hotel Endsleigh had been). There were some goats and peacocks which kept Erika entertained for a bit. At the end of the grounds there was supposed to be a lift down to the hotel's private beach/pool. Perhaps unsurprisingly though this was "non funziona".

We sat outside the hotel for a while after that and had a drink on one of the swinging chairs. This would probably have been a partially redeeming part of an otherwise very disappointing hotel experience, where it not for the fact we were surrounded by Bosch employees on some sort of offsite training trip, doing "brainstorming". The occasional waft of corporate nonsense speak did rather spoil the setting a bit.

In the evening we headed back into the centre of Sestri Levante for a bit of a pre dinner stroll (las passeggiata as I believe it's called), then settled on a cheap and cheerful pizza place for dinner which was unremarkable but did the job. Perhaps it was partly because it was a Monday, but lots of the places I'd researched on the web seemed to be closed - apparently June doesn't count as summer here - and the town felt quite dead. I wasn't really warming to Sestri Levante.

On the way back we walked along the beach and were treated to a nice sunset, and I managed to get some quite pleasing pictures. Probably the highlight of another mostly quite disappointing day.



Post a comment