Picnic in Hyde Park
Posted on 2014/06/09 22:16:13 (June 2014).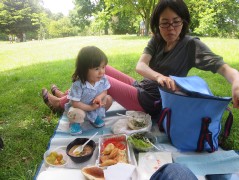 [Sunday 8th June 2014]
I woke up a bit before the girls this morning, and was determined to act on this frequent weekend impulse I get to go out and buy freshly baked bread and pastries for breakfast. In practice there isn't a decent baker anywhere in Pimlico, and so instead this morning I decided to walk over the river to Vauxhall, and go to the Little Waitrose there. Whilst Vauxhall can hardly be described as an idyllic destination for a Sunday morning stroll, the sun was glistening on the Thames, there was a warm summery breeze, and it was actually rather nice.

After our breakfast of croissants and Gail's rosemary and potato bread we set about trying to invite pretty much everyone we know in London to join us for a picnic in the afternoon, as it was such nice weather. I am well aware that the chances of ever getting anyone to do anything at the weekend at short notice are next to none, but picnics seem like the sort of thing that have to be organised on the spur of the moment, being so obviously weather dependent.

Anyway, none of my friends were available, and Chie only managed slightly better - just one of her friends, and her son (who is about the same age as Erika) came to join us. Still we just carried on regardless - we picked up takeaway Lebanese food from Noura on the way, and a bottle of Nyetimber (left over from the recent Champocalypse) from my office, and headed to Hyde Park to find a shady spot to sit and eat.

Erika enjoyed playing with the ball with her friend, and I ended up looking after both of them for quite a while as his Mum went off to find the loo which I assume must either have been a long trek or had a long queue. At one point the little boy accidentally hit Erika on the head with a stick. Not particularly hard, but of course Erika cried a bit - he then looked quite terrified and pretty much froze solid, presumably as he was expecting to be scolded. I ended up having to pick him up and carry him back to our picnic blanket as I just couldn't get him to move at all. Eventually playing with the ball resumed and they both brightened up again.

On the way back, Erika dozed off in her buggy, giving Chie and I chance to have a sneaky beer sitting outside Tom Tom in Belgravia, which was rather nice. We rather greedily followed that up with ice cream at Olivogelo round the corner, for which Erika conveniently woke up, and whilst there bumped into some of our NCT friends.

Didn't really feel hungry in the evening, as a combination of the hot weather and the fact we'd more or less been eating all afternoon. So just had a very light dinner, some hiyayakko, nasu dengaku, and sunomono with a bit of rice. Very pleasant.



Post a comment