In The Night Garden Live
Posted on 2014/06/09 22:15:55 (June 2014).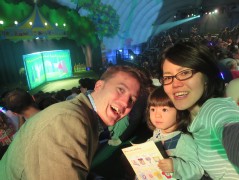 [Sunday 1st June 2014]
Took Erika to see "In The Night Garden Live" at the O2 this morning - a stage show version of one of Erika's favourite TV programmes on CBeebies. Or at least it always used to be - we'd booked tickets for this a few months back and in the intervening period she seemed to be going off it a bit. She does still play with her In The Night Garden toys a lot though, so perhaps it's just that once you've seen a few episodes it does start to get a bit repetitive.

Still, fortunately she seemed to quite enjoy the show regardless, as got quite excited on the way in when she saw the posters, the giant "Haa Hoos" and so on. I thought it was all quite well done too, and have to admit I was probably just excited as Erika was when Iggle Piggle and Makka Pakka first made their appearances.

I've occasionally felt a bit guilty that sometimes we seem to be trying to live our life as it was before Erika came along, and just fitting her into it somehow - I'm not sure toddlers in general particularly like having to sit still in restaurants, for example. So it's actually quite a lovely feeling when we make a special effort to do something purely for Erika like this.

It was all over by 11 o' clock, and I would have liked to have extended the day out by taking a boat trip on the way back or something, but Chie was flying off to Berlin this afternoon for a business trip and we didn't really have time. So we got the tube back to the flat, had a bit of lunch, then waved Chie off.

Erika slept for a couple of hours in the afternoon, after which we went for a wander round the gardens, then had macaroni cheese for dinner. I was a bit apprehensive at how Erika would react to Chie going away this time, but actually she seemed pretty much fine, she seemed quite happy to be fed, entertained after dinner, and then put to bed by Daddy.



Post a comment