Belgravia with Andy
Posted on 2014/05/26 13:30:20 (May 2014).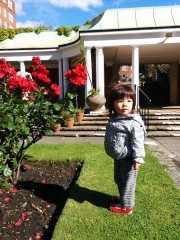 [Sunday 25th May 2014]
Took Erika for a wander round the gardens in the morning.

In the afternoon I headed over to my office where I'd arranged to meet Andy, who was passing through London again on his global travels. Originally we'd discussed spending the afternoon doing some sort of far flung pub crawl - possibly to East or North London, but in the end the requirement to store luggage at my office whilst we were out meant it made sense to just stay fairly close by, and so we didn't get beyond the borders of Belgravia. Not necessarily such a bad thing.

We started at the Star Tavern, wherein I tried their vegetarian Sunday roast (not bad - not sure why I've never spotted this before), then proceeded on from there to the Nags Head, the Grenadier, and finally the Duke of Wellington.

It was a delight as always to wile away the time with Andy in the very pleasant surroundings of Belgravia's excellent pubs.



Comment 1
Bara kreine! Kimoti yosasou!

Posted by yoko at 2014/05/28 09:50:04.
Comment 2
Hi John.

You, Andy and went on a pub crawl ages ago and I've been trying to locate/contact Andy every now and then since I lost contact back in 2012. Any chance you can connect me to him? Much obliged.

Cheers
Michael (the German guy)

Posted by Michael at 2015/02/20 02:33:56.
Comment 3
Duh, forgot my email addy:

Please send to shadout7 at yahoo dot com

Posted by Michael at 2015/02/20 02:35:09.