Flying to New York
Posted on 2014/05/11 22:33:07 (May 2014).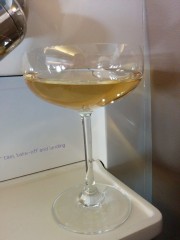 [Tuesday 6th May 2014]
Dropped Erika off a nursery in the morning, went into work until just after lunch, then headed off to Heathrow. This was my first proper business trip since Erika was born (assuming you don't count the trips to Japan, as of course the girls came along with me then), and the first time to leave Chie looking after Erika by herself overnight (in Japan I'd usually spent a few nights in Tokyo away from the girls, but then they were with Chie's parents so had extra help on hand). So I think we were both a bit apprehensive about it, and I really wasn't too keen on being in a different country from Erika.

As a result I'd arranged for it to be as short a trip as physically possible - just three nights away.

I'd managed to get a seat in Upper Class on the way out, so arrived at Heathrow a tad earlier than I normally might (my usual criteria is to spend the least possible time in the airport). After whisking through the Fast Track security I headed straight for the lounge, and spent a pleasant hour relaxing there with a couple of cocktails and a late lunch.

Boarded the plan around 3:30, and it turned out I was sitting across the aisle from Marco Pierre White. Unsurprisingly he turned down most of the in-flight catering, the only thing I saw him eat was the tub of Haagen Dazs they brought along about half way through.

One of the main things I normally like about Upper Class is the chance to sit at the onboard bar, and on previous trips have spent most of the flight there. I wasn't really in the mood for some reason today, so just had one quick drink there, and otherwise spent the whole time in my seat. Watched a couple of films, including Wolf of Wall Street.

Landed at JFK around 7pm, managed to get through immigration and customs fairly quickly (particularly as I only had carry-on luggage), but then spent a frustratingly long time waiting in a queue for a taxi. Last time I had attempted to journey into Manhattan by public transport, and it had been a long, confusing, and at times a bit scary journey - so I decided not to repeat that.

Got to my hotel around 8, immediately regretted my choice of accommodation as the guy at the check-in desk spent half the time talking about the procedure for getting into the nightclub. The lobby was full of young party going types. I just rather hoped that I was sufficiently tired by this point I'd sleep irrespective of the likely noise.

After dropping off my bags, and doing a quick bit of research, I headed out for dinner. I chose a place within walking distance called Soy and Sake - perfect for me as I like both. It seems to be something of a tradition to have sake on the first night in New York. The menu at this place was full of fake meat, of which I am a big fan, and I have to admit this was actually quite tasty, albeit that some elements seemed a little odd to my tastes (courgettes in a stir fry?).

Headed back to my hotel after that and went to bed.



Post a comment