Chie's Birthday Lunch
Posted on 2014/05/02 23:35:16 (May 2014).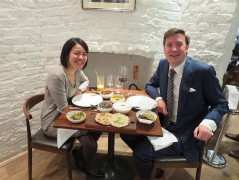 [Friday 2nd May 2014]
One thing Chie and I have both been hankering for in recent weeks is the opportunity to enjoy a "gorgeous lunch" together, just the two of us. As much as we miss Erika as soon as we're away from her, and time spent with her is of course very precious, it isn't typically what you might call relaxing.

After several failed attempts recently to have a nice quiet lunch while Erika had a nap at the weekend (several times in a row she fell asleep just before lunch, then woke up as soon as we arrived at the restaurant), we decided the only way to guarantee it was to take time off work in the week, while Erika was at nursery. As it happens Chie's birthday was also this weekend, which seemed to help justify it.

I'd chosen a place called Trishna in Marylebone for our lunch - it's an Indian restaurant which specialises in seafood, but also has a vegetarian tasting menu. That sounded like a really good match for the two of us, and also the fact it has a Michelin star meant it would hopefully be a bit special too.

We both ordered 7 course tasting menus - Chie's largely seafood based, mine the vegetarian one (of course). Although there were one or two highlights, in hindsight I regret ordering the tasting menu, as mine at least ended up being effectively 5 courses of starters (some of which were rather silly and tiny) followed by a course which looked a lot like a conventional main course, then a final course which even in the confusing landscape of Indian sweets was unmistakably a dessert. I note that in some Indian restaurants they offer a kind of platter of assorted appetizers as a starter, what they'd done here was effectively one of those, spread out over an hour and a half, on five different plates.

Chie's earlier courses looked like a lot more thought had gone into them, and were also more substantial, and I was left with that familiar sense of disgruntlement that the vegetarians are assumed to be women on a diet who are more interested in chatting with friends than the food itself, not men with robust appetites who expect to be getting something really special when spending about three or four times what we normally would on an Indian meal.

Oh well, the disappointment with the food aside, it did at least fulfill the requirement of being very relaxed and self indulgent - we were there for a good two and a half hours. I went for the wine pairings with each of the courses, which were mostly good - particularly the glass of Billecart Salmon at the start.

We rather unceremoniously got the number 2 bus back to Pimlico, on which I felt a tad overdressed in my bespoke suit. We went and picked Erika up from nursery together which made a very nice change. She as having her afternoon snack when we arrived, so we hung around a bit and watched her eat. It was rather lovely.

Spent the rest of the evening back at the flat. Chie and I decided not to bother with dinner.



Comment 1
Hisasiburi ni futari de odekake desitane!
Chie chan tanjyobi omedetou!!


Posted by yoko at 2014/05/07 04:41:43.
Post a comment