Beer and Burrito
Posted on 2014/05/02 23:35:16 (May 2014).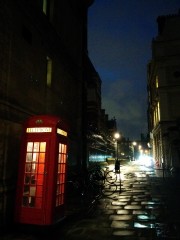 [Thursday 1st May 2014]
Chie and Erika went round to have dinner with our friend Iris this evening, so I was given a night off from parenting duties. I worked "late" (by recent post-having-a-child standards) and was at the office until just after 7. I rather fancied a burrito, so thought it might be a good opportunity to try out a new place. After a bit of research on Google Maps I settled on Poncho 8, near St. Paul's Cathedral, so got the tube to Blackfriars and walked up from there.

Not bad, but not particularly great either - and I was mournfully reminded of the sad end of Picante Mexican Grill by seeing the now deserted Blackfriars branch, which must have only been open a few months before the company went bust. Altough I never had a chance to go to that branch, the original one in SW1 remains the best burrito place in London for me, and every other place I've tried pales in comparison. How sad.

Anyway, after the not particularly wonderful burrito, since I was in that part of London where excellent pubs are plentiful, I thought I might go for a bit of a wander and revisit some old stalwarts, including the Cockpit, the Black Friar, Ye Olde Cheshire Cheese and the Seven Stars. Having strolled down Fleet Street (and poked my nose in at the Cock to see the 17th century carved fireplace on the first floor) I was of course put in mind of Samuel Pepys, and recall how he'd often commute to and fro between Westminster and the City by boat. In those days I believe you could just walk down to the water's edge pretty much anywhere in London and commission a boat - not unlike gondolas in Venice, I suppose. I rather fancied the idea of going home by boat, but it appears no modern equivalent of this exists - there are only scheduled boat services, more intended for sightseeing, and charter hire for parties etc. I'm fairly sure there's a gap in the market there for essentially a waterborne taxi service.



Post a comment