Kew Gardens
Posted on 2014/04/19 09:55:15 (April 2014).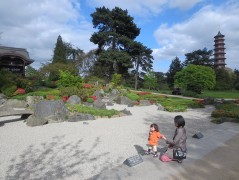 [Friday 18th April 2014]
We hadn't really planned much for the long Easter weekend, so last night I'd had a look around on the web for things we could go and do. There seemed to be some Easter stuff going on at Kew Gardens, and whilst it was probably aimed at older children, I'd also recently read that it looks particularly nice this time of year, with the bluebells and everything, so it seemed like as good a time as any to go.

Better still, whilst figuring out how to get there I discovered there was a boat service from Westminster. So the two things combined seemed like a great recipe for a full day out.

We only just made the boat, with barely a minute or two to spare - I'd sort of miscalculated how long it would take us to walk to Westminster pier, forgetting about the crowds of tourists around Parliament Square we'd have to push our way through.

Most of the best bits of the boat trip were at the start. Most boats from Westminster head East, so we usually don' get a chance to see the familiar sights of Westminster and Pimlico from the unfamiliar angle of the river. Even Vauxhall Bridge looked interested from the water. Despite the blue skies it was actually a bit chilly today, particularly with the cool breeze out on the water, and Chie found it really cold - so for much of the second half of the journey we retreated to the cabin below. They had a very reasonably priced galley, so we had a couple of cups of tea, and a bag of iced gems (!) - 30p a bag!

We arrived at Kew Pier around midday, Erika proceeded to fall asleep on the way into Kew Gardens, so Chie and I thought we'd take the opportunity for a quick lunch at one of the cafes before going any further. It was a rather basic affair - soup and half a sandwich - and we had to fight for a table, so our recent aspiration for a luxurious and leisurely relaxing lunch remains unfulfilled.

Anyway, since Chie still felt quite cold, we decided to spend as much time as possible in the various glasshouses (alas the biggest one was closed for refurbishment). The one with the palm trees in was particularly warm and humid, and I think that helped lift her spirits a bit. After doing the two big glasshouses which weren't closed for refurbishment, we went on the treetop walkway thing (which was wobbling rather unnervingly), followed by a cake stop around 3ish. I suspect this was the highlight of the day for Chie.

We finished off with a wander round the Japanese bits - the pagoda, the Japanese gate, and the Zen garden, then decided to leave by the Lion Gate and walk to Richmond station to get back.

Got the train back to Vauxhall, popped into the little Waitrose there, and for dinner we had a particularly rich and warming spaghetti bolognese, with a bottle of red wine.



Post a comment