Giving Chie a Break
Posted on 2014/04/18 07:31:41 (April 2014).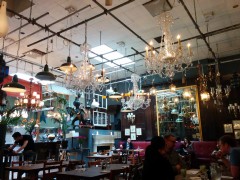 [Saturday 12th April 2014]
Chie seemed like she really needed a break today. So in the morning I took Erika to a Dads and toddlers playgroup. Although it's called "Just for Dads" there were actually quite a few Mums there. I got talking to a Japanese couple who had an 11 month old little girl.

That finished around midday, and Erika fell asleep just after we left, so in a pattern that was to be a running theme of this weekend, I thought Chie and I could go for a peaceful lunch somewhere while Erika dozed - Chie has recently expressed a concern that her and I hardly ever spend any time together without Erika there, who tends to demand our full attention. After a little deliberation we decided to go to the Brunwick House Cafe in Vauxhall.

Of course, as soon as we arrived there, Erika woke up. So rather than the leisurely lunch we'd hoped for, we had to go with the now wearily familiar routine of eating out with Erika, where one of us keeps her occupied while the other of us shovels food down as quickly as possible. Still, I suppose it was at least a nice setting - the cafe is effectively an adjunct to an antiques / interior design shop, and is packed full of an eclectic mix of chandeliers, lamps, and other quirky nik-naks. A surprising find for Vauxhall, which is otherwise doing its absolute best to resist gentrification.

So having the morning off followed by the not-particularly-leisurely lunch had not really made Chie feel sufficiently relaxed, so I offered to take Erika out for the afternoon too. We started off by walking into the centre from Vauxhall: along the Albert Embankment, past Lambeth Palace, over Westminster Bridge, and then to Charing Cross Road by way of Embankment. En route Erika fell asleep again - if only she could have done that an hour earlier!

I went into Foyle's and bought a couple of books for Erika, then went for a coffee in the cafe there while Erika was away with the fairies. Next I popped into Gerry's on Old Compton Street to buy a new bottle of creme de violet (I had a taste for Aviations again thanks to the summery weather) and whilst in there was excited to meet Hilary Whitney, one half of Sacred Gin, and was rather gushing with praise for their excellent spirit.

My next and final stop on my afternoon shopping expedition with Erika was the Japan Centre, where I bought things for dinner, an Anpanman magazine for Erika (she spotted it on the shelf) and a tamago-yaki pan.

Got the tube home from Green Park. For dinner we had an assorted Japanese meal, including tamago-yaki of which I was rather proud.



Post a comment