Trinity Buoy Wharf
Posted on 2014/04/12 07:54:21 (April 2014).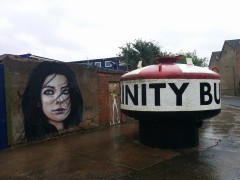 [Monday 7th April 2014]
Long time readers of the 'Maison will remember Sheri who used to be a contributor a few years back (nowadays it's really just me isn't it?). Anyway, I recently had an email from him, as he'd entered one of his paintings in a competition, and they weren't able to send it back to him, so it needed to be collected in person. As Sheri lives in France that would have been a bit of a trek, so he asked me if I could collect it and send it on.

This turned into a bit of a Monday morning adventure (the bar for anything to be considered exciting is set very low on Monday mornings) as the place I needed to go to collect it was all the way out at Trinity Buoy Wharf in E14. The nearest tube station was apparently Canning Town, so after dropping Erika off at nursery I walked over to Westminster and squeezed onto a jubilee line train with all the rush hour commuters. Unsurprisingly the train was utterly packed up to Canary Wharf, then pretty much empty after that. I don't think I'd ever actually been beyond North Greenwich on the Jubilee line before, so on arrival in Canning Town I was very much in unchartered territory.

It was supposed to be a 15 minute walk from there to Trinity Buoy Wharf, but being in very unfamiliar territory, despite having Google Maps and the directions from the Trinity Buoy Wharf website to hand, I managed to get a bit lost, and it took me more like half an hour. There were the sorts of natural obstacles in the way that one doesn't normally have to consider in central London - dual carriageways and rivers (not just the Thames) without bridges over them where you'd like them to be. I did an unhelpful circuit of the Limmo Peninsula Ecological Park, somehow believing it would help me cut the corner. It didn't.

Anyway, I got there in the end (oh and it started raining en route) picked up Sheri's painting, boxed it up, and managed to blag a couple of bin liners to protect it from the rain.

My return journey was significantly more efficient - I had noticed on the website as I'd been reading and re-reading the directions that there was in fact a ferry service operating between Trinity Buoy Wharf and North Greenwich Pier. This quickly became the highlight of my day - I love these little obscure boat services. I think I timed it just right - the little decommissioned police boat appeared at the largely unmarked pier just a couple of minutes after I arrived, painting under one arm, the other arm holding my James Smith brolly. I did not look particularly seaworthy what with that, in addition to my herringbone jacket and brogues, and it was a little precarious walking along the narrow deck at the side of the boat with all that clobber, but regardless the captain ushered me onboard, and I was in fact the only passenger for the crossing. The fare was a paltry £2 - I wonder if that even covered the cost of the fuel for the trip. It was a tiny little cabin, perhaps only six or eight seats, and there wasn't much of a view to be had given the rather grey and miserable weather, but the Millennium Dome loomed overhead in one direction, and the Emirates Air Line (the cable car thing) in the other.

So that got me to the Millennium Dome, and from there a relatively short walk to North Greenwich tube, and I was back on the Jubilee line. That's how you're supposed to cut the corner.



Post a comment