St. James's
Posted on 2014/03/23 22:27:19 (March 2014).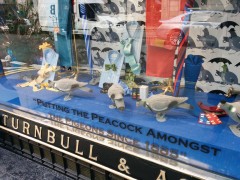 [Thursday 20th March 2014]
I seem to have been in a bit of a slump recently. I think it's a combination of several factors - the continuing sense of failure at being nowhere nearer to buying a place to live, which is somehow exacerbated by recently having had a birthday. Also following the tweedy glamour of the Cheltenham Festival last week day to day life has seemed really rather mundane.

As it happened I was in need of a hair cut so it seemed a good opportunity for a bit of a deviation from the normal routine, and after dropping Erika off at nursery I decided to walk through St. James's Park to St. James's, and there headed Ormond Yard, an alleyway off Duke of York Street, to Briggs. It was a delight as always to see Philip, who is around 90 years old, for a hair cut and a chat - this time mostly about our respective favourite churches and cathedrals.



Comment 1
Cheer up John! It may seem bad now, but eventually you'll succeed. Pick up a new hobby, watch a new movie...cheer up, it's spring!

Posted by Turnbull at 2014/03/24 04:41:42.