London Zoo
Posted on 2014/03/17 21:53:45 (March 2014).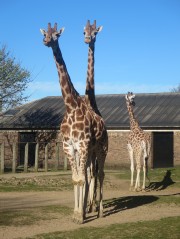 [Sunday 16th March 2014]
I'd decided some time ago it would be nice to go to the zoo today, as a combined half birthday treat for Erika, and birthday treat for me - particularly as she'd been ill on her actual half birthday earlier this week.

Some amount of faffing about was involved as Chie was determined to make use of a special offer which meant going to my office first to print out a voucher. We'd originally hoped to get there when the zoo opened at 10am, but inevitably it took longer than we thought to get there, and it ended up closer to 11.

Despite the lovely weather, somehow neither Chie nor I really felt in the mood for it by the time we arrived, and Erika probably needed a nap and was a bit irritable to begin with too. Still, we attempted to make the most of it.

We started with the aquarium, which was a bit boring to be honest, although Erika dutifully pointed and said "fishy" a lot. From there we saw the Galapagos tortoises (again Erika pointed and said "turtoo") followed by the komodo dragons, which quite rightfully Erika found a bit scary.

After a few more assorted creatures we got to the tigers - Erika loves The Tiger Who Came to Tea, and so despite barely being able to see the tiger for the crowds, did excitedly point and say "tiger". It occurs to me she actually knows quite a few animals already - not bad for 18 months!

After the camels we paused for lunch, and then after lunch Erika finally had the nap she probably should have had at 11, but of course being in a zoo she probably quite reasonably figured she'd miss something.

We then took a slow wander over to the North side of the zoo, stopping briefly for a second lunch (Chie hadn't really eaten anything first time) and then went and sat and waited by the giraffes for Erika to wake up. We had a really good view of the giraffes - they were definitely a highlight of the day - although I noticed while we were there that there was a gate here allowing you to get a pretty good view of them from the road.

We finished off our visit to the zoo at the penguin pool, and just happened to get there at feeding time.

We had a very pleasant stroll back through Regent's Park on our way home, and paused to take some pictures beneath the cherry blossom, which was looking rather lovely. Erika spotted some dogs in the park, and seemed just as excited by them as she had been about any of the animals in the zoo - but then at one and a half how is she supposed to know that dogs are commonplace, and Sumatran tigers, at least in London, are something of a rarity?



Post a comment