Hina Matsuri
Posted on 2014/03/01 22:12:56 (March 2014).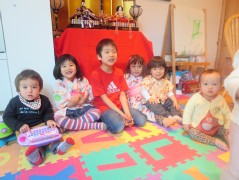 [Saturday 1st March 2014]
I hope today was a really nice day for Erika - we tried to fit in lots of things that would suit her really well.

Started off with breakfast at the Regency Cafe (OK that bit was more for our benefit) then went to the children's play area in Victoria Tower Gardens - next to the Houses of Parliament - which I think was only created last year. In addition to the usual swings and slides there are some really nice touches: a set of musical stepping stones, and a fountain which you can turn on and off with a big switch, which then pours over into a little stream. We more or less had the whole place to ourselves and I think Erika really enjoyed it.

After that I took Erika to the "Just for Dads" session at our local library - Chie has been trying to get me to go to one of these for quite a while now, and for one reason or another it hasn't worked out until now. It mostly comprised of singing, but the chap who ran the session (who we'd seen once before in the guise of a Christmas elf and Santa Clause at the Christmas part we went to with Erika in 2012) was a bit of an all-rounder, and also did some balloon animals etc. Erika was pretty quiet for most of the time, although did join in a bit with a few of the songs, and I hope she enjoyed this too.

We went back to the flat after that so Erika could have some lunch, and then afterwards we headed over to Ashford (the one in Surrey, not the one in Kent) where Chie's friend Mika-san lives, for a "hina matsuri" party. Hina matsuri means girl's day - technically on March 3rd - and it just so happens in that particular group of Chie's friends lots of them seem to have had girls. So Erika had a few friends to play with for the afternoon, which, again, I hope was nice for her.

Popped into the "Little Waitrose" in Vauxhall twice today - both on the way to Ashford, and on the way back. I think it has only recently opened, today was my first time to go there, and it prompted me to comment about the gentrification of Vauxhall - a place I'd avoid altogether were it not for the occasional convenience of getting on a train there. As soon as the words left my mouth we encountered a man urinating against one of the outside walls of the actual Waitrose. Still some work to be done there, Vauxhall.

Had fresh pasta for dinner, and after giving Erika a bath and putting her to bed I spent the remainder of the evening addressing the two week backlog of updating my blog.



Post a comment