Back to London
Posted on 2014/02/16 08:21:24 (February 2014).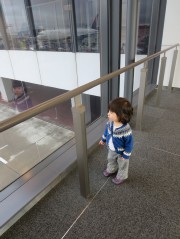 [Saturday 15th February 2014]
Despite the fact we'd already experienced travel disruption thanks to the snow yesterday, we'd rather nonchalantly looked at the timetable for the coach service from the hotel to the airport last night and spent a while debating whether we should get on the recommended one, which under normal operating conditions would get us to the airport about three hours before our flight took off, or whether we should get the next one and enjoy an extra half an hour in bed.

As it happens that was rather a moot point, as the hotel gave us a call at just before 7 this morning to tell us the coach service had been completely cancelled because of the snow. This was the start of a rather challenging morning.

Our initial plan was to get a taxi to Tokyo station, and get the Narita Express train service from there. This plan had two drawbacks. The first of these drawbacks was that there were no taxis available from the hotel. All of the entrances to the Okura require going up or down a fairly large slope, and consequently the few taxi drivers that were actually out on the roads this morning were avoiding it. So we decided instead we'd just have to brave the elements and walk to the nearest subway station - Kamiyacho. This was no mean feat. There was at least a foot of snow on the ground, in the process of turning to slush as a result of the icy rain. Torrents were streaming down the road like the thaw of an arctic tundra, and to add to all of that we had over 50 kilos of checkin luggage, plus our hand luggage, plus Erika. Oh and we didn't have umbreallas. And one of the wheels on the really heavy suitcase was broken (not that it really made that much difference, as I was pretty much dragging it through the snow anyway) Although theoretically only a 5 minute walk, every single step was an ordeal. At one point I have to admit to having a rather ungentlemanly outburst, which did seem to help a bit. A kind American named Joshua who had also been staying at the Okura and was in a similar predicament did at least help Chie with one of her bags (as she was also carrying Erika) , for which I am very grateful.

It was very uplifting to get inside Kamiyacho station, and I felt reassured at that point that we were now in Tokyo's excellent subway and rail network, and no longer dependent on its rather flaky taxi drivers. That was all well and good until we got to Tokyo station, where a machine happily sold us tickets for the 8:30 Narita Express, only to then find out when we got to the platform that the service had been suspended.

Oh dear, I thought.

By this point, a bit like the pied piper, we were amassing a herd of other stranded foreigners along with Joshua, who were also trying to get to the airport, and were at a bit of a loss as to who one was expected to do so now. The JR staff were making themselves conveniently scarce at this point, and eventually we managed to talk to a man on the ticket gate who told us we should go to Nippori station, and try our chances on the Keisei line (a company which runs a rival train service to Narita). This seemed like a bit of a long shot to me - if the Narita Express was cancelled because of the snow then surely another train company following a similar route would be too - but we didn't have any other backup plan so, with our new entourage of foreigners in tow, we got the Yamanote line to Nippori.

On arrival at Nippori we were encouraged to see huge queues at the ticket machines, and the displays seemed to suggest the Keisei line was amazingly still running to Narita. After a while in the queue, a member of staff announced we could use our Narita Express tickets on the next service, and so we all got on (well actually we seemed to have lost the bulk of our gaggle of foreigners at this point, but hopefully they got on too).

It wasn't one of the fastest services to Narita, and it ended up rather crowded as you might expect, but it got us to the airport - amazingly at the scheduled time of 10:16 - well done Keisei. So we were at the checkin desk about an hour and 25 minutes before our flight was due to take off. Loads of time!

I felt a great sigh of relief after having checked in, and was pleasantly surprised that the flights didn't seem disrupted at all - it didn't seem to have snowed around Narita airport, it was just the area between there and Tokyo which was causing all the problems with the trains and coaches.

The actual flight was tedious and irritating as always - and I was already exhausted before we'd even boarded - but at least it was all on time, and Erika was very well behaved onboard.

We landed in London at something like 3:20 in the afternoon, and got on a 4:20 Heathrow Express. Paddington provided the beautiful welcome back to London which Heathrow never does, and from there we got a taxi back home, and were back in the flat around 5.

I managed to stay awake until about 7:30, just long enough to have a shower, unpack, put on a load of washing, and have dinner. Then I thought sod it and just went to bed.



Post a comment