Last Day in Japan
Posted on 2014/02/16 08:21:24 (February 2014).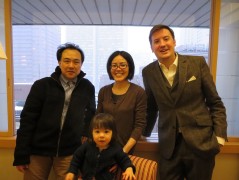 [Friday 14th February 2014]
Last full day of this trip. We said our goodbyes to Jiji and Baba in the morning, and got the shinaksen from Hiroshima to Tokyo through a snowy Japan. It's normally a four hour journey - today it was more like 4 and a half because of the snow (the worst bit was between Kyoto and Nagoya, apparently). Two delayed trains in Japan in the same week!

Chie had been a bit worried about taking Erika on the shinkansen, as it's usually very quiet on board, and packed full of salarymen, who may not always be the most forgiving of a noisy toddler. As it happens I don't think she really bothered anyone - although a few times she pointed at the dozing man across the aisle from us and said (quite loudly) "nene!" (Japanese baby talk for "sleep"). The Observer effect in action.

On arrival at Tokyo station we got a taxi to our hotel - the Okura. It's quite a famous old hotel in Japan, particularly with foreign visitors. We'd decided to stay there this time as we'd noticed on a previous trip it was the last stop on the route for the coach service which goes to Narita Airport, having picked up at some of the big hotels. Since it stops a good 5 or 10 minutes at each hotel, being the last on the route meant we'd theoretically get almost half an hour extra sleep. Although, per tomorrow's entry, that turned out to be something of a moot point.

After checking in we met up with both Tanaka-san and Yuka-chan at the hotel - both of whom had very kindly braved the snowy conditions to come and meet us there. I went off to one of the hotel's bars with Tanaka-san for a bit (Bar Highlander) whilst the girls went for a wander round the hotel's shopping arcades. Tanaka-san left before the rest of us headed out for dinner, but nonetheless it was great to have an hour or two to quickly catch up over a drink or two.

For dinner, Chie had found a macrobiotic restaurant called Chaya, not too far away at Shiodome. As it turned out though getting there was a bit of a challenge, as taxis were starting to become reticent about coming to the Okura - all of the entrances have slopes to go up or down to get to, and the drivers were all a bit worried about getting stuck it seemed. We probably waited almost half an hour for a taxi in the end.

Dinner was then a short but sweet affair, as to be honest I was a bit worried about whether or not we'd be able to get back to the hotel again. Macrobiotic restaurants are often a good bet for having one or two vegetarian items on the menu - I'm still not really sure exactly how or why that's the case, but it seems the macrobiotic diet, whilst including fish, pretty much eschews meat. I had some seitan fritter things which weren't bad, and a cocotte which had a tiny amount of soy "meat" in it, and was mostly beetroot - but was pleasant enough nonetheless.

Again we had a bit of a wait for taxis on the way back, but managed to return to the hotel just before 9. We gave Erika a quick bath, and then went to sleep with some trepidation over what the morning would bring...



Post a comment