Miyajima
Posted on 2014/02/13 09:55:56 (February 2014).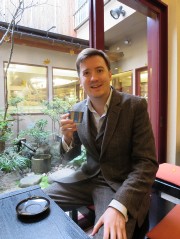 [Thursday 13th February 2014]
Awoke this morning at the onsen hotel - Chie went for another visit to the communal bath whilst Erika and I continued to doze (thus accounting for the very sweet picture at the start of the day). After breakfast we checked out, got the shuttle bus back over the bridge to Obatake station on the mainland.

From there we got back on the Sanyo line, but rather than going all the way back to Hiroshima, we broke our journey to visit Miyajima.

The main purpose was to visit Chie's Grandma there, and we weren't really planning to do any of the usual touristy stuff. As it happened though we arrived just before midday, and thought Chie's Grandma would probably be having her lunch - and also Erika was having a nap. So I suggested we go and have a coffee at coffee shop I'd found whilst searching around for independent coffee shops in the Hiroshima area - called, simple enough, Miyajima Coffee. Whilst the espresso I had was perhaps a bit watery, I liked the atmosphere of the place, and they had a La Marzocco which suggests some level of seriousness to the whole endeavour. After that, we followed on our elevenses with a momiji manju and a cup of green tea at Fuji-ya, my favourite momiji manju producer on the island. It's great that these shops all seem to have a little seating area where you can sit down, enjoy a freshly made momiji manju straight from the production line (which you can also watch through a glass panel), and a cup of green tea, for the embarassingly cheap price of 100 yen. Amusingly tea and cake for four at Fuji-ya came to the princely sum of 400 yen (£2.34 at the current exchange rate) - about the same price as a single coffee in the previous place.

From there we went to the nursing home to visit Chie's Grandmother. As on previous visits she was delighted to see Erika who in return was bubbly and lovely throughout the visit.

Headed back to the ferry port after that, and on the ferry back to the mainland we gave Erika her first ever momiji manju (I'd got an extra of the freshly baked ones when we'd been at Fuji-ya). She's probably a bit too young still to be having anything this sweet, but given that she is one quarter of Miyajima origin, it somehow seemed appropriate to make an exception. She rather liked it, of course.

Back on the mainland, at Miyajimaguchi (guchi means "gate"), we went to an udon place for a late lunch. As it was impossible to find any kind of liquid condiment there which didn't contain dashi, I ate mostly plain boiled udon, but with the addition of some vegetable tempura, some chopped spring onions, and some grated ginger, it was't too bad. Erika seems to really like udon at the moment - she's got pretty good at doing the "churuchuru" action, which is handy as it means she can still eat a piece even if you only get one end of it in her mouth.

Back at chez Moriwaki in the evening we had another tonyu nabe (soy milk hotpot) for dinner.



Post a comment