Saturday
Posted on 2013/12/28 14:13:45 (December 2013).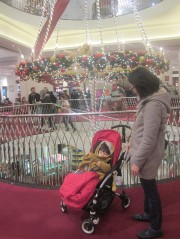 [Saturday 21st December 2013]
Finally today Erika seemed pretty much back to normal. Any sort of participation in the festive season had seemed pretty much off the cards until now, but today we decided we could get out and about, perhaps do a little bit of Christmassy shopping.

Started off the day with breakfast at the Regency Cafe, then progressed from there to Fortnum and Mason, where we bought the bare basics for Christmas (mince pies, a Christmas pudding, crackers, etc). Then after that we popped over the road to the Royal Academy for coffee in the newly renovated Keeper's House, the RA's members rooms. Very smart.

From there we headed to Liberty, where Chie chose a pair of shoes for her Christmas present from me. We normally buy surprise presents for each other, but this year we both seem to be a bit drained by Erika being ill in the run up to Christmas, and thought we'd just make it easy on ourselves.

I had a text from Tom out of the blue, who apparently was in London, so for lunch we met up with him and Nic, and went for ramen of Shoryu, which seemed to go down quite well - although Erika was a bit irritable and didn't seem keen on being there. So after lunch we said our goodbyes and headed home.

We got the bus on which Erika became really quite unhappy - pretty much screaming - so for the sake of the other passengers we got off after two stops and got a taxi the rest of the way. She was quiet in the taxi. Possibly still some lingering bit of pain from her ear infection, or maybe she just hates buses.

In the evening I made a lentil moussaka for dinner, which came out surprisingly well. The last time I'd made a moussaka I remember thinking it was more effort than a lasagne and not as good, so wasn't sure I'd bother again. I'm not really sure what made the difference this time - the only big thing was using lentils rather than Quorn mince... but then Quorn mince works really well in a lasagne, so not sure why it wouldn't work in a moussaka. Anyway, it was designed with Erika in mind as well, and all three of us really enjoyed it, which was very gratifying.



Post a comment