Curve Ball
Posted on 2013/12/19 21:34:47 (December 2013).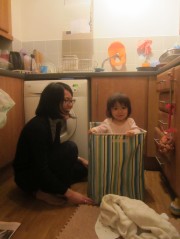 [Tuesday 17th December 2013]
Again I expected to wake up with spots this morning, but still none. Regardless I decided to get out to see the doctor to see if anything could be done - I'd read about anti-virals being able to lessen the impact of chickenpox if taken at the start of the illness, but already suspected they wouldn't prescribe them for me because I'm not an "at risk" case. My doctor's surgery has a walk-in clinic in the mornings, and the time you arrive can make a huge difference to how long you'll be sitting around waiting. I got there at 8, which may have been slightly overdoing as they don't start until 9 - I was the first person in the queue outside. On reporting to reception they asked what the issue was, and on telling them I thought I might have chickenpox I was quarantined into a separate waiting room (which actually seemed to be more of a spare office / store room) which was quite embarrassing.

When I actually got to see the doctor I was rather surprised to be told my fever and sore throat were actually caused by tonsillitis, not chickenpox. Of course this didn't mean I was going to avoid get chicken pox - the incubation period is cruelly up to 21 days, which could mean the outbreak might be right at the end of the month.

A bit of a "curve ball" I suppose.

I did however manage to get a blood test done for the chickenpox virus, which ought to tell me whether by some miracle I'm immune - I'll hopefully get the results the end of this week. Apparently it's possible to have had the virus but it just never developed into the full rash and anything. So fingers crossed that is the case, but frankly it's clutching at straws - that's a pretty unlikely eventuality, and it's much more likely the case that I'm going to get very ill.

Anyway, one way or another I felt a bit better than I had done yesterday, so I offered Chie the chance to go to work, and I stayed home to look after Erika. She didn't seem particularly bright today, she just wanted to lie down and sleep the whole day, and would only do so either on my lap, or on my chest. As lovely as that was, it meant I couldn't get anything done, but more importantly it was upsetting that she still wasn't back to her normal self yet.

She did perk up a bit in the evening for a while, and thus the pictures of her playing in the laundry basket.



Post a comment