Pox Tuesday
Posted on 2013/12/15 10:31:27 (December 2013).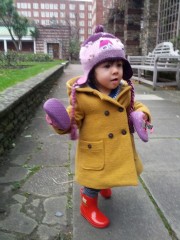 [Tuesday 10th December 2013]
So this morning I woke up to a rather unpleasant surprise - Erika had quite a few little red spots on her. There was no mistaking it - she had chickenpox. Her nursery had told us she had to stay off for at least seven days, so as Chie was in Dubai until Friday morning that would mean three days off work for me. I quickly accepted my fate, and set about trying to deal with the situation as well as I could.

Erika didn't actually seem particularly ill to begin with, so in the morning we headed out to stock up on supplies. I bought various medicines in Boots, and then did some food shopping at Sainsbury's, mindful of the fact we might be able to get out again for a few days. On our return to the flat I set about industriously making soup, and after lunch we went for a little walk around the gardens, again conscious we might not be able to get outside again for the rest of the week.

Generally she had seemed more or less OK in the daytime, but things definitely deteriorated towards the evening. To begin with the Calpol was doing a fairly good job of keeping her fever down (which was only supposed to be mild, and only supposed to last a day or two at the start) but overnight she started getting really hot, and Calpol didn't seem to be doing much to help any more. She also seemed to be developing quite a persistent runny nose, which didn't let up overnight, so her breathing was disrupted too. She kept waking up and crying, and after giving her Calpol, water, and trying to keep her cool, I quickly ran out of ideas for what to do to comfort her. Not a good night!



Post a comment