Grain Store and Chap Ball
Posted on 2013/12/08 17:39:48 (December 2013).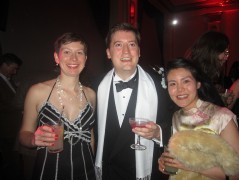 [Saturday 7th December 2013]
Mum arrived in London at midday, she'd come so she could babysit Erika this evening, so that Chie and I could go out together.

We went to meet her at St. Pancras, and decided to go to one of the restaurants in Granary Square behind Kings Cross for lunch. After some initial irritation at Caravan, where despite arriving not long after midday we were told there would be an hour's wait for a table (further proof that "brunch" is an annoying concept which should be banned), we instead tried the Grain Store next door, which probably ended up working ut better for us anyway. Although not an entirely vegetarian restaurant, there's a strong focus on vegetables and so quite a few vegetarian dishes on the menu. I think the menu they gave us at this time of day may stylistically have actually been something along the lines of brunch (lots of dishes involved eggs in some form or other), but I chose to ignore this, and manage to enjoy the meal regardless. The Welsh rarebit and mushroom croquettes were particularly good.

After that we headed back to the flat, where we spent most of the rest of the afternoon, apart from a foray out to the supermarket and do a couple of errands.

Made a sort of stew for dinner, then after giving Erika a bath and putting her to bed, Chie and I headed out to the Chap Ball (officially the Grand Anarcho Dandyist Ball). On arrival we found it all a bit odd - even more eccentric than the Chap Olympiad somehow - and Chie in particular didn't really know what to make of the entertainment that had been laid on for earlier in the evening (something Vivian Stanshall related, which was a bit too obscure even for me). However, things improved a bit after that, with some dancing, surprisingly (not really my sort of thing) - and we had a dance instructor collectively lead everyone in a Charleston, then the Lambeth Walk, then (perhaps not so authentically) a Conga. So that was fun.

Kyle and Hannah joined us there after a little while, which was jolly nice, and throughout the evening I enjoyed spotting some of the "celebrities" of the Chap world, and managed to get pictures taken with a couple of them too.

The only real disappointment for me was how badly my bow tie ended up, and I only had myself to blame for that! I'm confident I can do a better job of next time.



Post a comment