15 Years Since Radstock
Posted on 2013/06/23 08:08:41 (June 2013).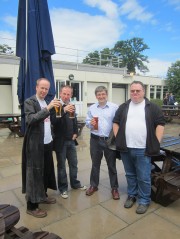 [Saturday 22nd June 2013]
Had a reunion today for the former residents of Radstock road in Reading, to mark (more or less) 15 years since we graduated. Of the total 8+1 (including honorary resident Tom) occupants of number 2 over the two years we were there, we managed to get 6 of us back in Reading today - which was a pretty good turn out - although it was a shame to have missed Lorenzo, who was stuck in Italy for work reasons.

The format followed something similar to the last time we did this - we met on campus, went for a wander around (today there was an open day on so lots of campus was, err, open), then went down to Radstock Road to have a look at the house, then went to the pub. Where we sat outside overlooking the canal, and Rob ate crisps off the floor.

I had to leave relatively early on, as Chie has been having a bit of a hard time the past couple of days, and I needed to give her a hand with feeding, bathing etc. So the time I had with the chaps seemed to pass extremely quickly, but nonetheless it was an utter delight to be surrounded by these familiar faces once again, and they remain some of my absolute favourite people of all time.



Comment 1
Nice to see your latest updates, John - the Maison site suddenly became unavailable while you were in Japan. All the best - Bryan

Posted by Bryan at 2013/06/25 12:49:26.
Comment 2
You are definitely in my top 200 of humanoids that I've had a conversation with!

Posted by Rob at 2013/06/26 11:51:19.