The Boat
Posted on 2013/05/06 22:57:37 (May 2013).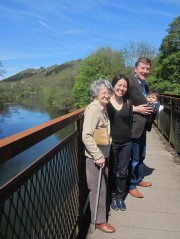 [Monday 6th May 2013]
Lunch at The Boat in Penallt before heading back to London, by way of Bicester Village.


Comment 1
My wife and I were in London today as part of our trip to my family in Portsmouth, John - my first visit in 7 years - and had hoped to visit the Regency Café for breakfast after all your good words about it. Sad to report, it must have been closed (no answer to repeated phone calls). Heigh-ho! :-)

Posted by Bryan at 2013/05/07 00:54:58.
Comment 2
Hi Bryan - yes it's pretty much just a weekday sort of place, it's only open until midday on Saturdays, is closed altogether on Sundays and I've never seen it open on a public holiday. They're very traditional like that - I wouldn't be surprised if their opening hours today are exactly the same as they were when they opened in the 1940s!

Posted by John at 2013/05/12 20:58:07.
Comment 3
Never mind, John, the fact the Regency Café was closed just gives me another reason to visit London at some future date :-) Thanks for the opening times update!

Posted by Bryan at 2013/05/18 13:06:59.