Leaving Tokyo
Posted on 2013/04/01 08:22:54 (April 2013).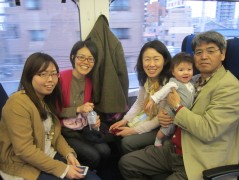 [Saturday 30th March 2013]
Last day in Tokyo today, and last full day in Japan of this trip.

Breakfast in Roppongi, then checked out, and headed over to Ueno for the afternoon.

Had lunch in an Italian place next to the station, after which we met up with Andy. The original plan was for Andy's wife to come along today, so she could meet Erika, but she was ill and decided very considerately to stay home. So we instead had a funny sort of afternoon tea with Andy in a tiny corner of a Doutor coffee shop in Ueno station. Lots of people had come to Ueno today, to enjoy the cherry blossoms in the park, but the weather had turned out to be quite cold, so instead lots of people were sheltering in the various restaurants and cafes around Ueno station, and everywhere was pretty busy. After that Andy and I had one last quick beer together, in the park (a sort of a tip of the hat to a hanami) and then we got the Skyliner train to Narita airport, along with Chie's family.

We'd decided to stay the last night in a hotel in Narita airport, at least partly because we'd had a hard time finding a hotel in Tokyo for that last night (maybe just because people anticipated the cherry blossoms would be in full bloom then?). So we got a frustratingly slow and crowded bus from the airport to the hotel, where we stayed for the remainder of the evening. We briefly met up with Chie's friend Kanako while we were there - she lives near Narita so it was fairly convenient for her to come and meet us at our hotel.

Had dinner in the restaurant in the hotel, where they had "resort style dining" (i.e. an all you can eat buffet). After that we had a drink in Chie's parents room, before calling it a night.



Post a comment