Bow Tie Thursday
Posted on 2013/04/01 08:22:54 (April 2013).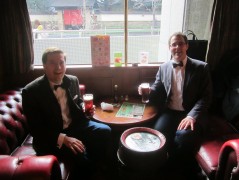 [Thursday 28th March 2013]
Chie, Erika and Chie's parents flew to Tokyo this morning, and they all came to my office for lunch, which was rather nice.

Met up with Andy again this evening. We'd been planning this evening over email whilst I'd been in Hiroshima, and somehow we'd come up with the idea of wearing bow ties. Andy, being one of the instigators of Pink Shirt Wednesday, dubbed the event Bow Tie Thursday.

We started off with a return visit to the the Hobgoblin in Roppongi - as it turns out it is roughly half way between our two offices. From there the plan was to head straight to Asakusa for the remainder of the evening, but a mistaken connection on the train saw us making a detour by way of Yurakucho, where I was keen to introduce Andy to the vending machine bar there, as I'm sure he'd like it. It did seem to be a big hit with him.

Then we resumed the original plan, and proceded to Asakusa. Andy is a big fan of Asahi so was delighted to have the opportunity to visit their world headquarters, across the Sumida river from Asakusa station, with the famous "golden turd". One of the buildings has a bar at the top, where we had - of course - some Asahi - and enjoyed the views out over Tokyo. Including quite a good view of the Sky Tree, which hadn't been built last time I was here.

Our final destination was one of my favourite bars in Tokyo - Kamiya. Andy took a little while to warm to it, but I think it was eventually considered a success, making my hit rate for the evening very high indeed.



Post a comment