Last Day in Hiroshima
Posted on 2013/03/24 12:40:16 (March 2013).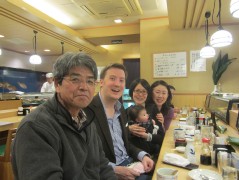 [Sunday 24th March 2013]
My last day in Hiroshima of this trip as I'd be heading on to Tokyo the next morning, and working in the office there for the final week. Chie and Erika would be joining me a few days later.

Had a quiet morning in today, both Chie's Mum and Dad went out in the morning to classes - Chie's Mum to a hula dancing class, and Chie's Dad to a soba noodle making class. We continued with Erika's weaning, and today gave her some mashed up banana to eat. She pulled a bit of a funny face with the first mouthful, but after that seemed to quite like it.

For lunch we ate the fruits of Chie's Dad's labour. A typical way to serve soba is cold - boiled first, then cooled - and dipped in a bonito stock based sauce (in case you forgot we were in Japan) with possibly some chopped spring onions. When I've had them in the past I've substituted soy sauce for the bonito stock, which is just too salty really. So today Chie made a vegetarian version of the dipping sauce, with a bit of kombu stock, some soy sauce, and some mirin. I'd always been a bit take-it-or-leave-it about soba noodles in the past, if I'm honest, but today as a combination of having really fresh, lovingly handmade noodles, and the right kind of sauce, I actually really enjoyed them.

In the afternoon we headed out to Aeon Mall, to do a quick bit of shopping (I bought a couple of 100 yen bow ties) and to meet up for coffee with Chie's friend Nagi-san.

We popped back to the flat briefly after that to say a quick hello to Chie's aunt and uncle, Naoko-san and Kazuyoshi-san, who had popped in for a quick visit. Like last time we met them, Erika started crying every time Kazuyoshi-san looked at her, which was a little odd as he looks quite similar to Chie's Dad, and I think has a rather gentle, sympathetic sort of a face. I suspect the reason may actually be Naoko-san, who is lovely, but also somewhat highly strung, and made a big deal about it, and was hiding Kazuyoshi-san's face etc. I'm sure by the next time Erika meets them she'll have got over whatever it was.

In the evening we went to Sushi-Tei for dinner - this has become something of a tradition pretty much every time we visit Chie's parents in Hiroshima. I wasn't sure if we'd go this time, as people don't tend to take babies out to restaurants so much in Japan, but Chie's parents seemed undeterred, and so we went regardless. Surprisingly, for a cuisine which is so reliant on freshness and delicate flavors, sushi places can often be quite smoky, but fortunately Sushi-Tei has a no smoking policy at the weekends. I expect that actually means they're a bit more tolerant of kids at the weekend too. We needn't have worried anyway - Erika was very well behaved throughout, and slept through some of the meal.

I ate all the usual things I eat here - the umibudou (sea grapes), ha-wasabi (leaves from the wasabi plant) and so on. The food was good as always, but the mood was perhaps a little subdued. Maybe it was partly just because the medication Chie's Dad is taking at the moment means he can't drink, but I think it was also partly because our time in Japan - for this trip at least - was coming to an end. Although Chie and Erika were staying on in Hiroshima for a few more days, and actually Chie's parents would be coming to Tokyo to see us off too, nonetheless my departure is a reminder that there's only a week left.

I think it's bound to be a bit more difficult than it was before, now that Erika has arrived, that my family are on one continent and Chie's family are on another. Although Chie's Mum had already spent a few weeks with Erika in England after she was born, this trip was Chie's Dad's first time to meet Erika, and he has surprised us all by how involved he's been with Erika since she's been here. Not just playing with her, but pushing the buggy, carrying her in the sling to help her get to sleep, and giving her baths. I can't help but feel a sense of guilt that by going back to England this time we're depriving Chie's parents of their granddaughter, for a while at least.

Well at a minimum I think we're going to have to come to Japan more often from now on - I think the last gap between visits had been 18 months, which is pretty much an eternity in baby terms. Hopefully we can persuade Chie's parents - both of them this time - to come to England really soon too.



Comment 1
Dear John, my name is Nick and my friends are those (Oliver, Liz and Mat and Chris) who visited your house on Radstock Rd Reading! They were shocked and delighted you had recorded this. Well done, Nick Smith (Malaysia, ex Reading flatmate of those guys)

Posted by Nick Smith at 2013/03/27 08:33:01.
Post a comment