Okayama
Posted on 2013/03/24 05:15:00 (March 2013).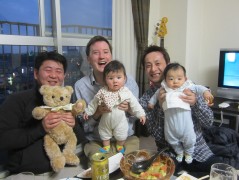 [Saturday 23rd March 2013]
Today we went for a day trip to Okayama, which would usually be about a 45 minute journey by shinkansen from Hiroshima, but we took the slower/cheaper "kodama" shinkasen which was closer to an hour-and-a-half. This was Erika's first time to be on a shinkansen - and actually the only opportunity she'd get on this trip, Chie had decided it would be easier for them to take domestic flights between Hiroshima and Tokyo.

On arrival we headed into the centre of Okayama, for lunch at a tofu restaurant called Okabe. I'd found it by searching Google Maps for "vegetarian okayama" - and this was the only result. Whilst not entirely vegetarian (as always in Japan the ubiquitous katsuodashi - bonito stock - was ever present) with a bit of negotiation we were able to order a slightly modified version of one of their set meals for me. Their assuage - deep fried tofu - was probably some of the best I've ever had - fried to order, and really fresh and light tasting. At the same time though I really didn't want to eat any more fried food - it seems kind of unavoidable for me in Japan.

We then met up with Chie's friend Tetsu at the station, and went back to his flat, where we'd spent the remainder of the afternoon. Tetsu is a friend of Chie's from her university days, who, coincidentally, had a baby around the same time as Erika. So Erika spent some of the afternoon getting to know Shin-chan - it's fascinating how babies seem so interested in other babies. It's probably a relief after a while to meet another person who isn't a giant.

Alas more fried food ensued - Tetsu's wife Kanako had very kindly prepared a dish of kara-age style koyadofu just for me. Again it was delicious and of course I couldn't refuse it because it had been made specially, but I decided after that I was going to make a concerted effort to not eat anything else fried for the rest of the time I was in Japan.

We were also joined by Hiroshi during the afternoon, another friend of Chie's from university, who happens to live very close to Tetsu. He has two kids too, although they're a bit more grown up already (I think the eldest is six) and he'd decided to leave them with their Mum this afternoon.

We left around 8, and on the way back to Hiroshima had a whole carriage on the shinkansen to ourselves - I've never seen it so quiet. Consequently we took a lot of silly pictures. I particularly like the one of Erika poking her head up above one of the seats, a few rows of seats away.



Post a comment