Sanzoku, Kintaikyo and Andersen
Posted on 2013/03/22 13:44:31 (March 2013).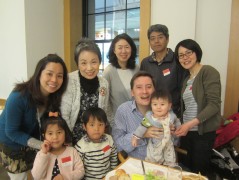 [Friday 22nd March 2013]
We were out for most of the daytime with Chie's Dad today - around Iwakuni, in the neighbouring prefecture of Yamaguchi.

Our first stop was a famous restaurant in the mountains above Iwankuni called "Sanzoku" which translates as "bandits". Chie and her family used to come here when she was a kid, and she was really keen to take me and Erika here. To call it just a restaurant perhaps sells it a bit short - it's rather a sprawling complex, with an emphasis on outdoor dining - almost a theme park really. They had huge decorations up for girl's day and boy's day (the 3rd of March and the 5th of May respectively) which bordered on the gaudy, but that all added to the charm. We sat outside, beneath a waterfall, and had a light lunch. Whilst there wasn't much of interest to vegetarians on the menu, I really enjoyed the atmosphere of the place.

After lunch, we headed to the famous kintaikyo bridge, which I've been to a couple of times before (and, as you may have noticed, is used in the logo for this blog). Perhaps a tad disappointing on this visit, as the weather was quite overcast, and we'd hoped for the cherry blossoms to be slightly more in bloom than they actually were.

We drove back straight into the centre of Hiroshima, as we had plans to meet Chie's aunt Chikako-san for dinner at 6pm. We were also joined by Chie's cousin Ryo-chan, and her two kids - so Erika had a chance to meet some more of her second cousins. We ate at Andersen, the headquarters of a pan-ya (bakery) chain which is present all over Japan, but originated in Hiroshima. On the second floor they have a restaurant where they do an all-you-can-eat plan, which was particularly good as all the food was cooked fresh to order. It was mostly Western style food, which I found quite welcoming, as my stomach was still a bit unsettled from the unpleasantness earlier this week, and I was glad of some familiar comfort food.

At Andersen, if it's your birthday month, they gave you a special sticker, a goodie bag to take home, and also a flautist came to play happy birthday to our table. Interestingly it seemed like there was a birthday on every table.



Post a comment