Thursday in Hiroshima
Posted on 2013/03/22 13:44:30 (March 2013).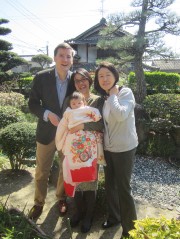 [Thursday 21st March 2013]
We resumed Erika's weaning schedule this morning, having taken a break the last few days owing to the vomiting bug. We tried out a sort of instant rice mush we'd bought in England, which she didn't seem particularly a fan of. For some time now, as babies do, she's been in the habit of gnawing on plastic things. So instinctively when a spoon is near her mouth she's quite willing to give it a bit of a chew, but since we've started weaning, the first spoon which actually has food on it seems to elicit a look of surprise and dismay, as though that wasn't what she thought she'd signed up for.

In the early afternoon, we went over to Chie's Grandmother's house, to take some pictures of Erika in the Moriwaki family's baby kimono. It's a Japanese tradition to buy a child size kimono (it's actually kind of huge on a baby) and take pictures of your baby/child in it at various stages of development - I think Chie's Mum said the first picture the baby isn't really expected to actually wear it, it's just sort of draped over them or something. Anyway, we dressed Erika in it even though it was far too big, and took some pictures in the back garden, which looks very traditionally Japanese. Erika was a little grumpy today so she isn't really smiling in any of the pictures, but probably that sort of stoic expression is appropriate for this kind of traditional Japanese portrait, and that aside I think we got some nice shots.

Later on in the afternoon we headed out again to Hijayama park, which is sort of up on a hill above the centre of Hiroshima, to have another look at how the cherry blossoms were coming on. Again the trees were partly in bloom, but not yet enough to tempt any Japanese people out for a hanami.

The timing probably ended up a bit unfortunate on this trip - the cherry blossoms were going to be later in Hiroshima than in Tokyo this year (despite Hiroshima being slightly further South), and by the time they were in full bloom in Hiroshima I'd be in Tokyo, where they'd already be a bit past their best.

We went back home from Hiyajama by way of Ujina, Hiroshima's port, where there's a little street of former warehouses which have been converted into "lifestyle shops". We bought Erika another toy there - one of those sets of stacking cups.

In the evening Chie's Mum made harumaki (spring rolls) for dinner - they were delicious, but this kind of fried food was probably not the best thing to eat when my stomach was still recovering, and consequently I had a very interrupted night's sleep.



Post a comment