Monday in Tokyo
Posted on 2013/03/08 12:49:11 (March 2013).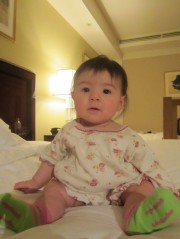 [Monday 4th March 2013]
Not a very eventful day really, and so not many pictures to show for it.

I went to the office in the day time - the plan was for me to work this week so I didn't have to take too much vacation for our long trip to Japan - whilst Chie and Erika received various visitors at the hotel. Erika had been a quite dramatically sick in the middle of the night, so Chie decided it probably best not to go too far today, thinking Erika might have caught a bug, but in the end it turned out to just be a one off. Aren't babies strange?

In the evening we were all a bit tired, and still didn't really want to go too far from the hotel, so went for pizza at a place in Tokyo Midtown - the sort of shopping centre / development which the Ritz Carlton is part of. This being Roppongi our simple dinner of two pizzas and two drinks came to 7640 yen - about 55 quid. The pizza was fairly good but the bill rather soured the experience - it would have been cheaper in Belgravia.



Comment 1
I like the picture taken at 20:59:47 so much I have printed it out and put it in the lounge.

Posted by John's Mum at 2013/03/11 17:48:19.